Five Questions for: Dr. Pamela Trotter
February  20, 2012
Five Questions is a series of profiles of people at Augustana College. Dr. Pamela Trotter delivers the answers today. If you know someone you'd like to see profiled, send his or her name and a note to sharenews@augustana.edu.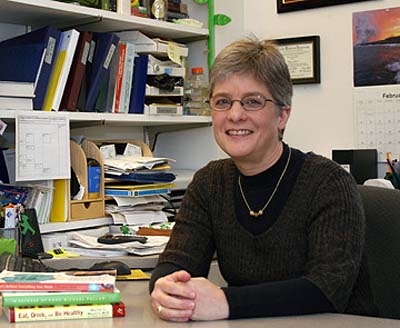 Dr. Pam Trotter, Augustana professor of chemistry. (Augustana Photo Bureau/Scott Cason)
Dr. Pam Trotter is the Robert W. Beart Chair in Chemistry and the academic advisor for students majoring in biochemistry. After earning her Ph.D. at Harvard University, she went on to the University of Texas at Austin where she served as a professor and research fellow in the university's Institute for Cell and Molecular Biology. She joined the Augustana College faculty in 2001.
1. Describe the appeal you found at Augustana College that moved you to leave your position at the University of Texas.
The University of Texas was a bit of a culture shock. I had never worked in a big university, certainly not one of the two largest in the nation. UT hired me to be a research scientist, so I only got to teach one class a year. As I entered my fifth year, I was required to file a pre-tenure application and part of that process was to project where I thought I would be in five years. I just couldn't do it. By this time, what became clear to me was that becoming a full-time research scientist was not part of my original vision when I went to graduate school. My goal then was to work at a place like Augustana.
2. Why do you think Augustana science grads are among our most accomplished alumni?
It's because we have high expectations. My colleagues and I talk all the time about not lowering the bar because we know how competitive it is out there for those in search of a science-related career or admission to graduate or medical school. The first-term biochemistry sequence is particularly challenging. We move at an accelerated pace in a course of study that integrates the cell biology, organic chemistry and genetics background they acquired earlier in their academic careers. And we do in 10 weeks what most programs spread over a 15-16 weeks. The program changes in the second term to a more discussion-based format. This approach is challenging in another way because we ask students to develop critical thinking, reasoning and public speaking skills as they digest, analyze and react to primary source materials. This is the learning environment that awaits them in graduate school and in the real world, so it is an experience our graduates really value.
3. You and your husband participate as characters in Renaissance festivals. You often take on the role of an alchemist. If you could travel back in time to the period of the Renaissance, what would you want to do first?
That's a hard one. I don't think I could go back as me, because I am a woman. And the things I like to do at Renaissance fairs would probably get me branded a witch. If I didn't have to worry about by these things, I think I'd most like to go back and enroll in a great English or Italian university and be around some of the great personalities of the period. I read enough science fiction to know that it's probably dangerous to mess with history too much, so I would probably just observe and take it all in.
4. What is a study-abroad program you would love to put together, and with whom would you want to partner?
I minored in German as an undergraduate and spent a summer working in a nursing home in Germany as part of an exchange program. Some of my patients lived through the war, and their reactions to me (as an American) varied. Some were very pleasant and some just didn't like me because I was an American. Two years ago while on Vienna term I again became very interested in pre-World War Two Europe. This is a period marked by both a great brain drain and deep moral issues surrounding scientific research that would end up being applied for both for good and bad purposes — things like eugenics and the atom bomb come immediately to mind. I could see a study-abroad program that moves between London, Vienna, Berlin and Krakow, much as scientists of the period before the war were able to move about and share ideas. I think students would benefit from an interdisciplinary program involving science, history and philosophy.
5. You once taught a class titled, "Science and Pseudoscience." Tell me about it and what it says about you as a scientist?
This was Kevin Geedey's brainchild, but he, Lori Scott and I put this together. I've always been interested in the philosophy of science because although science is something we do every day in the lab, we are still humans doing it. What we tried to do was get the students recognize that the line between science and pseudoscience is pretty thin. It's thin because of our basic tendencies as humans. We tend to like stories more than statistics. We like to see patterns where there really may be none. And we don't like gaps in our understanding, so we try and fill those gaps. Nutrition science is one area where that thin line is crossed all the time. I had an argument one time at a downtown festival with a sales rep at the Five Hour Energy drink booth. I asked her how somebody could get five hours of energy out of a sugar-free drink — a drink with no calories, thus no energy in it. She said, "So what are you, some sort of biochemist?"
Five Questions recently has featured: