February 18, 2012
2011-12 Season - Viking women fifth at CCIW meet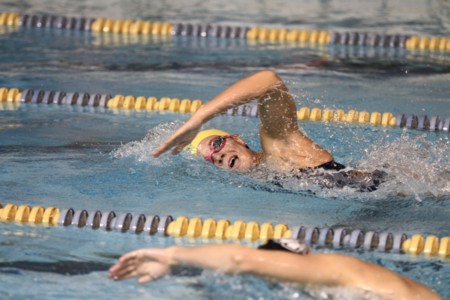 Junior Molly Clennon was a member of two school record-setting relay teams at this year's CCIW championships, including Saturday's 400 freestyle relay.
KENOSHA, Wis.-Juniors Molly Clennon (Benet Academy, Naperville, Ill.), Alexandra Piper (Coal City HS, Coal City, Ill.) and Emma Regnier (Grayslake North HS, Lake Villa, Ill.) along with sophomore Hillary Ferguson (Waubonsie Valley HS, Naperville, Ill.) teamed up for a school record 3:39.35 in the 400 freestyle relay Saturday at the College Conference of Illinois & Wisconsin swimming & diving championships at Carthage College. That performance helped the Vikings to a fifth-place finish in the team standings.
The 400 freestyle relay team finished fourth and took down the previous school record of 3:40.12 set by Kelly Dougherty, Ashley Casper, Ramsey Vens and Michele Chao in 2006.
Regnier also narrowly missed an individual school record with a seventh-place 2:15.85 in the 200 butterfly. Her time was just a tenth of a second off Megan Lonergan's record of 2:15.75 set in 2009. Also Saturday, Ferguson took eighth in the 100 freestyle, swimming a :54.69.
The CCIW swimming & diving championships were kicked off last week with Augustana sophomore Helen Myers (Pecatonica HS, Rock City, Ill.) winning both the one (343.20 points) and three-meter (333.70) diving titles at Bloomington, Ill.
The swimming competition picked up this past Thursday in Kenosha, Wisconsin. On Friday, Regnier set one individual school record and helped her 800 freestyle relay team break another. Her 1:00.68 in the 100 butterfly prelims set a new Augustana mark, which she then bettered in the finals, breaking the one-minute barrier with a time of :59.67. She also teamed with Clennon, Piper and Ferguson for an 8:03.77 in the 800 freestyle relay, breaking the previous school mark by nearly 10 seconds.
Wheaton is the 2012 CCIW champion, finishing with 899.5 points. The host Lady Reds of Carthage were second with 752.5 points. Rounding out the team standings were third-place Illinois Wesleyan (750), followed by North Central (336), Augustana (298), Millikin (205) and Rose-Hulman (155).