February 18, 2012
2011-12 Season - 400 freestyle relay sets school record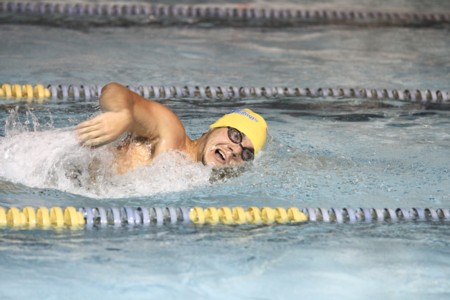 Sophomore Chris Greaves finished sixth in the 200 backstroke and eighth in the 200 butterfly Saturday at the CCIW swimming & diving championships in Kenosha, Wisconsin.
KENOSHA, Wis.-Behind a school-record performance by its 400 freestyle relay team Saturday, the Augustana men brought home a fifth-place finish from the College Conference of Illinois & Wisconsin swimming & diving championships. The meet started with last week's diving competition in Bloomington, Illinois and wrapped up Thursday, Friday and Saturday, February 16-18, in Kenosha, Wisconsin with the swimmers. Carthage won the 2012 CCIW championship with 920.5 points.
With freshmen Aaron Holt (Mount Vernon HS, Mount Vernon, Ill.) and Michael Duy (Marmion Academy, Aurora, Ill.) swimming the first two legs and senior Charles Vogt (Oak Park-River Forest HS, Oak Park, Ill.) and sophomore Daniel Hinck (Harlem HS, Loves Park, Ill.) the last two, the Viking 400 freestyle relay finished in 3:11.61. That was good for a third-place finish and bettered the previous school record of 3:11.64 set in 2003 by Craig Kreutzer, Ryan Kinslow, Nick Gehl and Matt Simcock in 2003.
Also on Saturday, sophomore Chris Greaves (Morris HS, Morris, Ill.) finished sixth in the 200 backstroke with a 2:00.34 and eighth in the 200 butterfly with a 2:03.76. Duy swam a 2:02.40 in the 200 butterfly to finish one spot ahead of Greaves. Sophomore Austin Zarbuck (Urbana HS, Urbana, Ill.) also earned an eighth-place finish, swimming a 17:19.94 in the 1650 freestyle. Holt set a new school record in the 200 backstroke, swimming a 1:56 in an exhibition event.
Wheaton came in second in the final team standings with 886.5 points. Illinois Wesleyan (471.5) was third, followed by Rose-Hulman (403), Augustana (372.5), Millikin (154) and North Central (151).
Freshman Josh Wielenga (School of Environmental Study, Apple Valley, Minn.) got things started last week with fourth-place finishes in both the one (345.65 points) and three-meter (342.05) diving events.
In addition to Saturday's school record in the 400 freestyle relay, Holt set a new Augustana standard on Thursday, with a 1:55.62 in the 200 individual medley. He also broke individual marks in the 100 butterfly (:51.27) and 100 backstroke (:53.59) on Friday and was part of another school record relay, teaming with sophomore Ryan Chaney (Pleasant Valley HS, Bettendorf, Iowa), Greaves and Hinck for a 1:38.21 in the 200 medley relay.
Augustana head coach Scott Johannsen was named the conference's 2012 co-Coach of the Year.