February 18, 2012
2011-12 Season - Last second heroics win at Carthage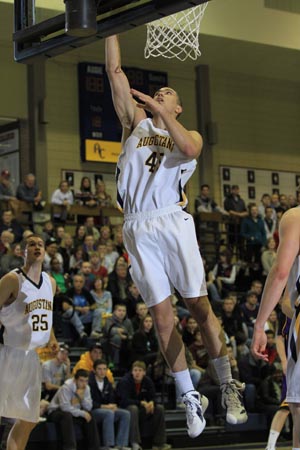 Junior Kameron Norton scored 15 points and pulled down eight rebounds to help lead the Vikings, ranked 17th in NCAA Division III, to a 74-73 overtime victory at Carthage on Saturday, February 18.
KENOSHA, Wis. - Last second heroics at the end of regulation and overtime helped lift 17th ranked Augustana to a hard-fought 74-73 College Conference of Illinois & Wisconsin victory over Carthage on Saturday, February 18 in Kenosha, Wisconsin. The Vikings needed a late three pointer by senior Troy Rorer (Bettendorf HS, Bettendorf, Iowa) to force the extra session and then used a blocked shot by junior Brandon Kunz (Lake Zurich HS, Lake Zurich, Ill.) to preserve the victory.
Augustana trailed 66-63 following a basket by Carthage's Kevin Sykes, his only points of the game, with :30 left in regulation. The game clock was about to strike zero when Rorer drilled his three point field goal to tie things at 66-66 and force the extra session.
The Vikings appeared to be in control when Kunz sank a pair of free throws with 1:18 to play in overtime to give them a 74-70 advantage. However, a three point field goal by the Red Men's Tyler Pierce, his only long-distance basket of the game, trimmed the margin to 74-73 with :51 left. Augustana then failed to get a shot off and turned the ball over to the home team with :15 left.
With just three seconds remaining Malcom Kelly of Carthage drove for what would have been the winning basket but his layup was blocked by Kunz and went out of bounds with possession to the Red Men. Just one second was left on the clock, however, and after each team took a time out, Carthage turned the ball over attempting to inbound and the Vikings escaped with the victory.
Carthage jumped out to two nine point leads early in the game (12-3 at 14:55 and 14-5 at 12:30) but Augustana went on a 14-4 run to take a 19-18 lead with 4:51 left to play in the first half. The Red Men scored the next five points to surge ahead 23-19 at 4:10 but the Vikings eventually used baskets by Rorer at 2:18 and Kunz at :56 to forge a 25-25 tie at halftime.
In the second half Carthage led by seven (53-46) with 8:07 to play before Augustana went on a 14-6 run to take a 60-59 lead on a three point field goal by senior Bryant Voiles (Byron HS, Byron, Ill.) at 2:50. That set the stage for Rorer's buzzer beater to send the game into overtime.
The Vikings trailed just once in the extra session and that was at 4:01 when Pierce hit two free throws to make it 69-68. Pierce was a factor in the overtime, scoring all seven of Carthage's points.
Augustana had four players in double figures with Voiles leading the way with 18 points. Junior Kameron Norton (Downers Grove North HS, Downers Grove, Ill.) added 15 while Rorer had 14 and Kunz dropped in 11. The Vikings held a 40-24 advantage in rebounding with Kunz pulling down nine and Voiles and Norton each grabbing eight. The game was decided on the offensive glass for Augustana as the Vikings rebounded 18 of their own misses to help offset 21 turnovers.
After shooting just .391 (9-23) from the floor in the first half, Augustana came back to shoot .536 (15-28) in the second stanza.
Carthage got 17 points from Max Carey and 15 from Mitch Thompson. Pierce, who logged only 17 minutes, scored 13 and Kelly had 12.
The Vikings are now 19-5 overall and 9-4 in the CCIW while Carthage ends its season at 12-13 and 6-8. Augustana will play at Wheaton on Tuesday, February 21 before heading to Naperville, Illinois for the CCIW Tournament on Friday, February 24.