February 18, 2012
2011-12 Season - Comeback falls short against Carthage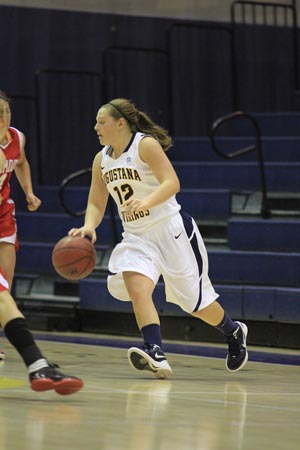 Molly Etheridge led the Vikings in scoring with 14 points and six rebounds in a 53-44 loss at Carthage on Saturday, February 18.
KENOSHA, Wis. - After falling behind 30-12 at halftime, the Augustana women's basketball team mounted a furious second half comeback only to come up short by the score of 53-44 in College Conference of Illinois & Wisconsin action on Saturday, February 18 in Kenosha, Wisconsin. Trailing by 18 three separate occasions in the second half, head coach Bobbi Endress' team eventually cut the lead to seven but ran out of time.
Carthage scored the game's first 12 points and led 16-1 at the 8:42 mark before the Vikings could get untracked. Trailing 30-12 at the intermission, it was at the 11:38 mark of the second stanza when Augustana made its move. A three point field goal by Abbi Staples (Sterling HS, Sterling, Ill.) got the Vikings going. From the 11:38 mark of the second half, when it was 40-22 Carthage, until the 1:38 mark, when Augustana sliced the lead to just 49-42, the Vikings went on a 20-9 run.
It was too late, however as the Lady Reds were able to move their record to 19-6 overall and 10-4 in the CCIW. Augustana fell to 11-13 and 3-10.
Molly Etheridge (Normal Community HS, Bloomington, Ill.) led Augustana in scoring with 14 points and she was the lone Viking in double figures. Etheridge also led the Vikings in rebounding with six.
Dani Ripkey was the leading Carthage scorer with 10 points while Diana Jacklin had 11 rebounds.