February 18, 2012
2011-12 Season - Vikings bounce back with win over SNC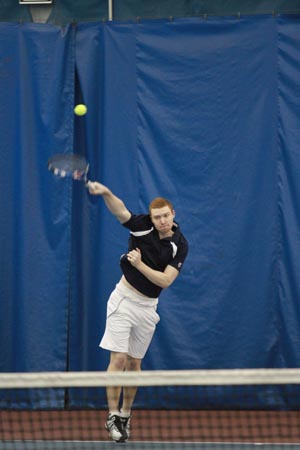 Sophomore Kevin Bayles picked up a pair of victories as Augustana defeated St. Norbert 8-1 on Saturday, February 18 in Green Bay, Wisconsin.
GREEN BAY, Wis.- It didn't take Augustana long to get back on the winning track in men's tennis. Less than 24 hours after losing 9-0 to 21st ranked Wisconsin-Whitewater, the Vikings of first year head coach Jon Miedema bounced back and defeated St. Norbert by a score of 8-1 on Saturday, February 18 in Green Bay, Wisconsin.
It was an impressive showing for the Blue & Gold, with a sweep of the doubles competition paving the way followed by wins in five of the six singles matches.
Senior Adam DeSimone (Bettendorf HS, Bettendorf, Iowa) and sophomore Andy Wall (Notre Dame Academy, DePere, Wis.) helped set the tone with an 8-4 win at number one doubles over Derek Harrington and Nick Acosta. The Palmer brothers, junior Will (Schiller International School, Leicester, England) and freshman Lawrence (Schiller International School, El Prat de Llobregat, Spain) won 8-6 at number two over Tim Hartwick and Costin Fink. The number three Augustana doubles team of sophomore Colin Arnold (Sterling HS, Sterling, Ill.) and sophomore Kevin Bayles (Homewood-Flossmoor HS, Flossmoor, Ill.) beat Josh Sweere and Matt Lobek 8-5.
With a 3-0 lead after doubles, the Vikings never looked back in singles play. DeSimone picked up a 6-3; 6-1 win over Harrington at number one and Lawrence Palmer beat Hartwick 6-3; 6-1 at number two.
Arnold won over Acosta at number four by a count of 6-4; 6-2 and Bayles beat Sweere 6-1; 6-3 at number five. Freshman Maarten Vonk (Rotterdam, Netherlands) had a tough match at number six but came back to defeat Travis Buechel 3-6; 7-5; 10-7.
Augustana's next competition will be February 26 against Capital in Orlando, Florida.
Augustana vs St. Norbert
Feb 18, 2012 at Green Bay, Wis.
Augustana 8, St. Norbert 1
Singles competition
1. DeSimone, Adam (AUGIE) def. Derek Harrington (SNC) 6-3, 6-1
2. Palmer, Lawrence (AUGIE) def. Tim Hartwick (SNC) 6-3, 6-1
3. Matt Lobek (SNC) def. Wall, Andy (AUGIE) 6-4, 7-5
4. Arnold, Colin (AUGIE) def. Nick Acosta (SNC) 6-4, 6-2
5. Bayles, Kevin (AUGIE) def. Josh Sweere (SNC) 6-1, 6-3
6. Vonk, Maarten (AUGIE) def. Travis Buechel (SNC) 3-6, 7-5, 10-7
Doubles competition
1. DeSimone, Adam/Wall, Andy (AUGIE) def. Derek Harrington/Nick Acosta (SNC) 8-4
2. Palmer, William/Palmer, Lawrence (AUGIE) def. Tim Hartwick/Costin Fink (SNC) 8-6
3. Arnold, Colin/Bayles, Kevin (AUGIE) def. Josh Sweere/Matt Lobek (SNC) 8-5
Match Notes:
Augustana 3-1
St. Norbert 0-4