February 17, 2012
2011-12 Season - 21st ranked Warhawks drop Vikings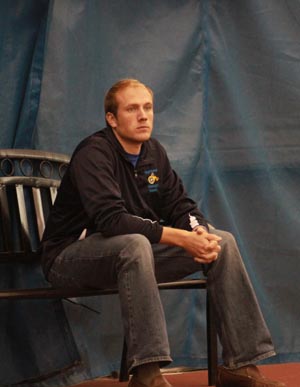 Augustana head coach Jon Miedema's team suffered its first defeat of the 2012 season, losing at 21st ranked Wisconsin-Whitewater on Friday, February 17.
WHITEWATER, Wis. - The Augustana men's tennis team suffered its first loss of the season on Friday, February 17 with a 9-0 defeat to nationally ranked Wisconsin-Whitewater (21st) on in Elkhorn, Wisconsin. The loss puts the Vikings at 2-1 on the season after they opened the campaign with wins over Wabash and Monmouth on February 4.
The Vikings began the day battling in some close doubles matches. First and second doubles both held strong early as they stood at 3-4 before Whitewater reeled off four of the next five games in both to take each match 8-4. The third doubles team of Jack Cullen (Edgewood HS, Madison, WI) and Colin Arnold (Sterling HS, Sterling, Ill.) put on the match of the day for the Vikings as they fought back from down 6-7 and 7-8 to eventually bring the match to a tiebreaker at 8-8. The tiebreaker seesawed back and forth with Arnold and Cullen falling behind 3-4 before Whitewater's doubles team of Cameron Laktash and RJ Rademacher took four of the next five points to win the tiebreaker and match 9-8(4). The loss was the first doubles loss for Cullen and Arnold on the season.
Following the narrow doubles defeat the Vikings were forced into too many errors as they were beaten at first through sixth singles. Across the board the Warhawks used steady play and disciplined shot making to stretch the lead in each match. The closest singles match of the day for the Vikings came from senior captain Adam DeSimone(Bettendorf HS, Bettendorf, IA) who lost 6-3, 6-3 to Byron Balkin.
Augustana looks to quickly rebound with a match against St. Norbert at the Western Racquet Clubin Green Bay, Wisconsin on Saturday February 18th.
UW-WISCONSIN 9, AUGUSTANA 0
Singles:
Byron Balkin (WW) defeated Adam DeSimone, (AC) 6-3, 6-3
Andrew Bayliss (WW) defeated Lawrence Palmer, (AC) 6-1, 6-0
Andrew McGlashen (WW) defeated Andy Wall, (AC) 6-0, 6-3
Mitch Osborne, (WW) defeated Jack Cullen, (AC) 6-0, 6-2
Erik Scanlan, (WW) defeated Colin Arnold, (AC) 6-3, 6-2
Brady Porter, (WW) defeated Kevin Bayles, (AC) 6-1, 6-2

doubles:
Balkin/Osborne, (WW) defeated Wall/DeSimone, (AC) 8-4
Bayliss/McGlashen, (WW) defeated Will Palmer/L. Palmer, (AC) 8-4
Cameron Laktash/RJ Rademacher (WW) defeated Cullen/Arnold, (AC) 9-8(4)