February 17, 2012
2011-12 Season - Regnier leads way at CCIW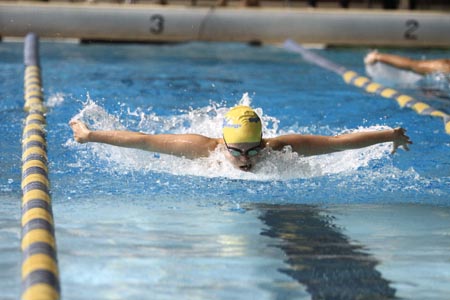 Emma Regnier broke the school record in the 100 butterfly on the second day of competition at the CCIW Championships in Kenosha, Wisconsin.
Junior Emma Regnier (Grayslake North HS, Lake Villa, Ill.) set one school record herself, helped her relay team break one and nearly got a second individually on the second day of competition at the College Conference of Illinois & Wisconsin women's swimming & diving championships. The second day of competition was held on Friday, February 17 at Carthage in Kenosha, Wisconsin.
Regnier broke the school record in the 100 butterfly not once, but twice. She recorded a time of 1:00.68 in the preliminary round to erase Nancy Fabrizio's 1988 mark of 1:00.92 off the books. In the finals, Regnier became the first Viking to eclipse the one minute barrier when she stopped the watches at :59.67 en route to placing ninth in the event.
She also swam the second leg on the 800 freestyle relay team that took fourth and established a new school record. The team of junior Molly Clennon (Benet Academy, Naperville, Ill.), Regnier, junior Alexander Piper (Coal City HS, Coal City, Ill.) and sophomore Hillary Ferguson (Waubonsie Valley HS, Naperville, Ill.) recorded a time of 8:03.77. That took down the 1994 school record of 8:13.55 set by the unit of Laura Kaleta, Heather Eckhart, Julee Hayes and Erica Wilhelmsen.
Regnier nearly got another individual school mark as she placed fifth in the 100 breaststroke in 1:08.62, just missing Julie Konchan's 1987 standard of 1:08.14.
Regnier joined with Clennon, junior Emily Timmons (West Aurora HS, North Aurora, Ill.) and Ferguson to take fifth in the 200 medley relay in 2:02.66.
Clennon came close to setting a new school record herself in the 200 freestyle when she took 10th 1:57.84, just over Mandy Huizer's 1998 standard of 1:57.30.
Timmons took ninth in the 400 individual medley with a time of 4:55.32. Ferguson was 15th in the 200 freestyle (2:03.65) and freshman Laura Pemberton (Fremont HS, Fremont, Neb.) was 16th in the 100 breaststroke (1:17.02).
The Vikings are in fifth place in the team standings with 223 points. Wheaton leads with 614 while Illinois Wesleyan is second (554) and Carthage is third (537). North Central has 247 points in fourth. Millikin (137) and Rose Hulman (98) round out the field.