February 17, 2012
2011-12 Season - Three school records fall at CCIW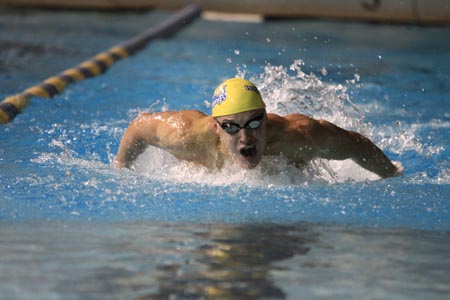 Freshman Aaron Holt broke two individual school records and helped in breaking the 200 medley relay mark on the second day of competition at the CCIW Championships in Kenosha, Wisconsin.
Three Augustana school records fell in the second day of competition at the College Conference of Illinois & Wisconsin on Friday, February 17 at Carthage in Kenosha, Wisconsin. Freshman Aaron Holt (Mt. Vernon HS, Mt. Vernon, Ill.) had a hand in all three as the Vikings finished the night in fourth place in the team standings.
Holt placed second in the 100 butterfly with a time of :51.27, breaking a school record that had been standing for 30 years. He erased Steve Eckberg's 1982 mark of :51.99.
He also broke Matt Simcock's 2003 record of :53.59 in the 100 backstroke. He erased it with a time of :52.50 in the preliminary round before swimming :52.65 in the final and placing third.
Holt teamed with sophomore Ryan Chaney (Pleasant Valley HS, Bettendorf, Iowa), junior Chris Greaves (Morris HS, Morris, Ill.) and sophomore Daniel Hinck (Harlem HS, Loves Park, Ill.) to finish fifth in the 200 medley relay in a time of 1:38.21. That is a new school record, breaking the old mark of 1:38.76 set in 2010 by Eric Zike, Marcus Julian, Greaves and Kyle Waller.
Hinck finished second in the 200 freestyle in a time of 1:44.33, just missing the school record of 1:44.15 set last year by Justin Reppy. The Vikings had a total of four place-winners in the 200. Freshman Michael Duy (Marmion Academy, Aurora, Ill.) was fifth in 1:45.44 with Greaves 11th in 1:47.67 and sophomore Austin Zarbuck (Urbana HS, Urbana, Ill.) finishing 13th in 1:47.89.
The 800 freestyle relay of Hinck, Greaves, Zarbuck and Duy placed fourth with a clocking of 7:06.24.
Chaney was 15th in the 100 breaststroke in 1:02.64 and senior Joey Waldorf (Bloomington HS, Bloomington, Ill.) was 15th in the 100 backstroke with a time of 1:02.88.
Augustana is in fourth place in the team standings with 282.5 points, trailing Wheaton (649.5), Carthage (633.5) and Illinois Wesleyan (348.5). The Vikings are ahead of Rose-Hulman (271), Millikin (89) and North Central (89).