February 17, 2012
2012 Season - Vikings hope to build on 2011 experience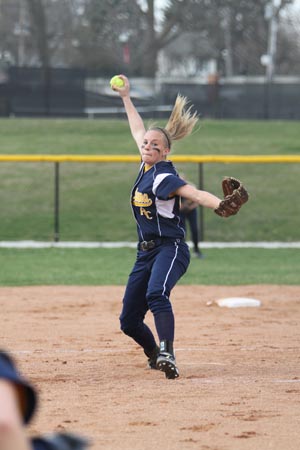 Sophomore Sarah Hintz was the top pitcher for the Vikings in 2011, going 8-7 with a 2.17 earned run averge. She shared the team's Most Valuable Player and Viking Award.
Veteran Augustana softball coach Kris Kistler knows that her softball team gained valuable experience in 2011. She hopes that translates back to the kind of success that the Vikings have become accustomed to since Kistler took over the program prior to the 2000 season.
"There were a whole lot of freshmen on the field last year," Kistler said with a chuckle about her team's adventures in 2011. "An awful lot of our players gained some valuable experience and the mental toughness that we gained collectively will be a huge factor toward out success this year. The talent level is fine and hopefully we have learned how to compete game-in and game-out."
Augustana went 19-19 a year ago and 5-9 in the College Conference of Illinois & Wisconsin. It was the first losing season in conference play in Kistler's previous 12 seasons and the Vikings failed to post an overall winning record for the first time since 1999.
Just one year removed (2010) from the school's fifth NCAA Division III tournament appearance, Kistler figures her team has the tools to get back to its accustomed status. A total of 14 letter winners return, including five position players and two pitchers who could be considered starters.
"As is usually the case in softball, pitching will be the key," said Kistler, who has compiled an overall record of 342-175-2 (.661) during her 12 seasons as Augustana's head coach. "Our pitching staff is young but very talented. They have had a year under their belts so we expect them to be much better."
A year ago the Vikings logged a total of 244 1/3 innings on the mound and four players who accounted for 206 2/3 of those return for the 2012 season. Sophomore Sarah Hintz (LeRoy HS, LeRoy, Ill.) was the workhorse as a freshman when she posted an 8-7 record and a 2.17 earned run average in 116 innings of work. She had 78 strikeouts and walked just 26. Ashley Yaros (Stagg HS, Palos Hills, Ill.), another sophomore, led the team in victories last year when she was 9-5 and had a 3.32 ERA in 71 2/3 innings with 52 strikeouts and 34 base-on-balls.
Two more sophomores: Jaime Rehmert (Sterling HS, Sterling, Ill.) and Courtney Ledezma (United Township HS, East Moline, Ill.) will also be counted on. Rehmert was injured on the spring trip to Florida and she only logged 3 1/3 innings. Ledezma was injured during the early portion of the season and only saw action in relief during the second half of the campaign. She made 13 appearances and worked 15 2/3 innings while posting a 1.34 earned run average.
Two starters return in the infield but there is no guarantee either sophomore Kelsey Winter (United Township HS, East Moline, Ill.) or Krista Watson (Coal City HS, Coal City, Ill.) will be in the same position this year. Winter started 14 games at second base and she batted .277 with 13 hits in 47 at-bats. Watson started 33 games a year ago, mostly at shortstop and she batted .377 with 40 hits in 106 at-bats while scoring 29 runs with seven doubles, nine home runs and 25 runs-batted-in. She was the team's "Best Offensive Player" and was a first team all-conference performer.
The first base candidates will be Ledezma, Rehmert and freshman Christie Wiersema (Morrison HS, Morrison, Ill.) while Winter will battle freshman Jenna Teson (Jacobs HS, Algonquin, Ill.) at second base. Watson will probably be at shortstop but if she moves to third base then Teson will probably nail down the shortstop position. Junior Jenna Nelson (Orion HS, Orion, Ill.), sophomore Chaney Tambling (Dwight HS, Dwight, Ill.) and freshman Julie Sobieski (St. Charles East HS, St. Charles, Ill.) will be candidates at third base. Nelson was the regular designated hitter a year ago and she batted .378 with 37 hits in 98 at-bats with eight doubles, three home runs and 22 RBI. She was a first team all-region selection as a DH. Tambling hit .269 in limited action last year.
In the outfield senior Jillian Gibbs (Rock Island HS, Rock Island, Ill.) and sophomore Lauren Schneiderbauer (Sterling HS, Sterling, Ill.) are both returning starters. Gibbs was in left field where she hit .287 with 25 hits in 87 at-bats with 16 runs scored, two doubles, a home run and 16 RBI. Schneiderbauer played center and batted .262 with 17 hits in 65 at-bats with 14 runs scored, one double, one triple, three home runs and 12 RBI. She also tied for the team lead in stolen bases with eight. A wild card in the outfield will be fifth-year senior Dawn Kernich (Mt. Olive HS, Mt. Olive, Ill.), a former first team all-conference performer who missed the entire 2011 season due to a knee injury.
Senior Abbi Staples (Sterling HS, Sterling, Ill.), junior Rachel Russell (Hinsdale South HS, Willowbrook, Ill.), sophomore Bria Snyder (Lincoln-Way East HS, Frankfort, Ill.) and freshman Chelsea Lavin (Downers Grove South HS, Downers Grove, Ill.) will also battle for playing time in the outfield.
Sophomore Randi Applehans (Mountain Vista HS, Highlands Ranch, Colo.) handled most of the catching responsibilities last year when she batted .224 in 29 games. Freshman Jaclyn Wrona (Glenbard South HS, Wheaton, Ill.) could be in the mix as well.
The Vikings will once again tackle an ambitious schedule and Kistler hopes her team can get off to a fast start on the annual trip to Florida over spring break.
"Even though we have lots of returners, we have plenty of youth so confidence is always an issue," said Kistler. "We know we can compete with anybody on our schedule. We need to believe we can win close games and I think we can do that."