Coach Tom Schmulbach making a difference for 30 years
By Dave Wrath '80, associate director of athletics/media and alumni relations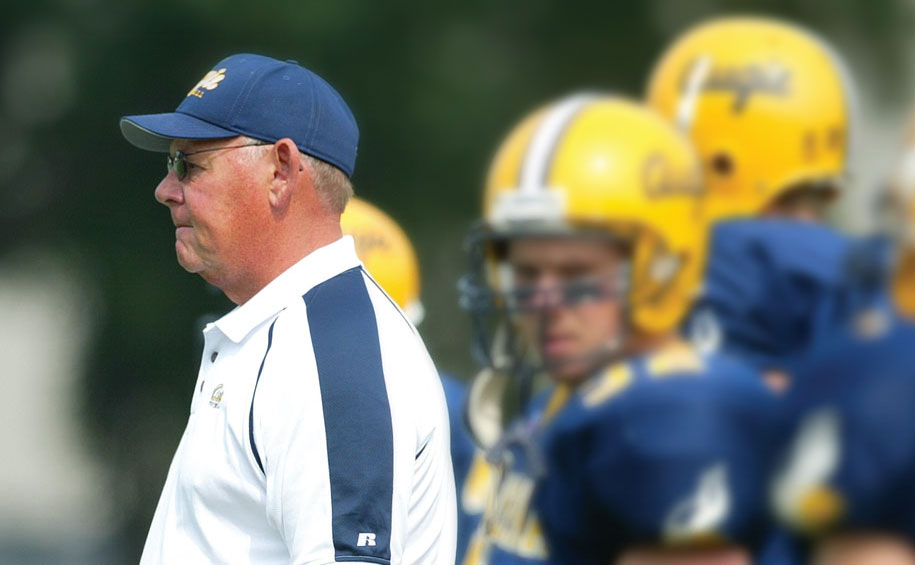 Considering all the on-the-field accomplishments that Tom Schmulbach was involved in during his 30 years as a football coach at Augustana, it would be easy to think that his personal highlight would involve something tangible and material. Something that reflected what the Vikings achieved during a run that started in 1982 and ended with the recently concluded 2011 season would be the logical choice for the top spot.

After all, here was a man who owns four NCAA Division III national championship rings, coached in five Amos Alonzo Stagg Bowl games, was involved in 12 NCAA Division III playoff appearances and helped Augustana win 15 College Conference of Illinois & Wisconsin (CCIW) championships. That doesn't include all the individual honors won by Viking players who were privileged enough to benefit from Schmulbach's unique style of coaching the game of football and mentoring young people. Nor does it factor in the courageous, and successful, battle he waged against cancer during the 1999 season. So when the question was posed, "Looking back, is there a single moment that stands out more than the rest?," his answer was a surprise.

"I think the top thrill that I had was that Homecoming weekend in 1997," he said during a break from cleaning out his office the week after the Vikings concluded the 2011 season. "My mother and father renewed their wedding vows at Ascension Chapel up in Founders Hall after the game, and every member of my family was here for the entire weekend. We won the game against Carthage (28-21) and Joe [his son who was a sophomore at the time and Augustana's starting quarterback] scored the winning touchdown in the final minute.

"That was about as perfect a time as I have ever had in my life. It meant so much to me to have the whole family around for that, and calling Joe's number for the winning score made his mother [Tom's wife, Jan] happy so I didn't have to get second-guessed at home for the next week."
That anecdote is Schmulbach in a nutshell.

'Quick, joyful trip'

A master teacher of the game of football, he combined humor and a deep sense of family and compassion for the young men under his direction to become a revered figure in the Augustana athletic department. Even though there was unparallel success (the Vikings were 221-58-1 during his time with the program), Schmulbach never lost sight of what was important.

"It has been a quick, joyful trip," he reflected about a career that began as the Vikings' offensive backfield coach in 1982. "I thought that the Augustana job would be a good one for me and my family, and it has turned out to be that and a lot more."

He was 35 years old in the summer of 1982 when he joined the Augustana staff and re-connected with legendary head coach Bob Reade. Schmulbach had been an assistant at Geneseo High School for Reade from 1971 until after the 1978 season.

Schmulbach rejoined Reade at a time when the Vikings were entering a dominant phase in both the CCIW and NCAA Division III. In 1982, his first season, Augustana went 11-1 and advanced to the Amos Alonzo Stagg Bowl in Phenix City, Ala. There the Vikings fell to West Georgia by a score of 14-0.

Augustana would not lose again until the second round of the 1987 NCAA Division III playoffs, when Dayton defeated the Blue & Gold in a memorable 38-36 decision. Schmulbach was the backfield coach on each of the four national championship teams in 1983, 1984, 1985 and 1986.

The quarterback on the 1985 and 1986 title teams and in that loss to Dayton in 1987 was Greg Wallace '88, currently the Vikings' head baseball coach.

"I will always have great admiration for Tom's ability to teach the game of football. He stepped on the field every day with a plan to make everyone around him better," said Wallace, who was hired to be the Vikings' offensive coordinator in 1995 when Schmulbach stepped into the head coaching position after Reade retired. "The loyalty, integrity and passion that Tom has displayed over the years made a lasting imprint on my life and many others in our athletic department."

Schmulbach took over the offensive coordinator's duties prior to the 1990 season, and that lasted until Reade retired following the 1994 campaign. He took over as the head coach during the summer of 1995 and began a five-year run as the head coach of the Vikings. He compiled a record of 34-13 in five years, and he led Augustana to CCIW titles in 1997 and 1999. His 1999 team advanced to the second round of the NCAA Division III national playoffs before losing to Mount Union 42-33.

That 1999 season was challenging for Schmulbach as he was diagnosed with cancer just prior to the start of pre-season practice. He was limited as to what he could do physically during that season and relied heavily on longtime friend and coaching colleague Larry Johnsen. Johnsen, who had coached with Schmulbach during his Geneseo days, served as the acting head coach in 1999 when the Vikings went 9-2.

It was at this point when Schmulbach was forced to make a decision about his future.

Always 'about the kids'

"When you are the head football coach, you own that position 24 hours a day, 365 days a year," said Schmulbach. "It was certainly a rewarding experience, but at that time in my life I wasn't sure I could give the effort needed. Augustana was extremely loyal to me during that time, but I came to the realization that I just couldn't promise how much I had left."

Schmulbach's son Joe, a 2000 graduate, was the starting quarterback and a captain on that 1999 team. He has not forgotten the lessons he learned from his father during that memorable fall.

"I will always remember our senior year in 1999 when he was fighting his cancer," said the younger Schmulbach who was the CCIW's Most Outstanding Offensive Player that season. "He taught a team that was trying to become great how to come together as one, fight with everything you had and beat something worth beating. Throughout that whole year the thing that stood out the most to me was the fact that he missed only one practice despite going through all that radiation treatment."

The quarterback remembers how much the courage of his head coach, and father, galvanized the team.

"It was hard to complain about being tired, sore or injured when you would look over on the practice field and know that he had been in the radiation room just hours before and that in early August he had undergone major surgery," Joe said. "He was in the intensive care unit just days before he met the team for the first time that season. We rallied around him that year, and it is a year we will never forget."

While his son remembers the team dedicating the season for the stricken coach, the elder Schmulbach went out of his way to make sure the focus was on the team and not him. He still does that to this day.

That is typical Schmulbach. It was never about him. It was always about "the kids."

'Tom made Augustana a better place'

Scott Tumilty '96 is the leading rusher in Augustana history with 3,794 yards in a storied career that spanned from 1992 until 1995. He was named the NCAA Division III Athlete of the Year in the spring of 1996 and is one of the most decorated athletes in Viking history.

"There is a warmth at Augustana because of people like Coach Schmulbach," Tumilty said. "When you get to a place, you want to leave it better than the way you found it. Without a doubt, Tom made Augustana a better place over the last 30 years."

After stepping aside as the head coach following the 1999 season, Schmulbach stayed on as an instructor in the physical education department and assumed responsibility of the school's Student Athlete Advisory Committee. After recovering during the 2000 season, Schmulbach thought about going back into coaching, but he wasn't sure if he could physically hold up to the stress. In 2001 he volunteered as an assistant coach at United Township High School in East Moline under the direction of Mike Tracey, a 1974 Augustana graduate. That season helped solidify Schmulbach's resolve to get back into coaching.

Blaine Westemeyer '10, who won the Gagliardi Trophy as the Player of the Year in NCAA Division III in 2009, was one of the players who benefited from Schmulbach's decision to return to coaching.

"He expected a lot out of his players, both on and off the field, and I would be willing to say that most players responded positively to that challenge and improved as football players and as men," said Westemeyer, who was a two-time NCAA All-American and two-time Academic All-American and a winner of both the National Football Foundation and NCAA Postgraduate scholarships. "But the abundance of his coaching experience aside, he simply had the craft to say the right thing at the right time to motivate players."

Schmulbach did something that is tough to do in athletics. He replaced a legend (Bob Reade) and, instead of being crushed by the burden, was able to carve his own niche into the tradition of Augustana football. He did it by using the same high-quality character traits that he displayed each and every day of his career.

"My years with Bob certainly shaped who I was as a coach," said Schmulbach. "He taught me that you need to have a system that is sound, believe in it and know how to teach it well enough so that your players will believe in it."

'Something that I aspire to'

A consummate storyteller, Schmulbach would sometimes hold court in his Carver Center office with colleagues. The sessions would involve a variety of subjects and laughter was usually heard pouring out the door. He was well known for making top-10 lists that would range from "best movie Westerns of all time" to "best Augustana football players who never earned all-conference honors."

Schmulbach is a devoted country music fan, and he proudly displays an autographed picture of his favorite singer Ernest Tubb on his shelf. Never afraid to poke fun at himself, it doesn't take long for Schmulbach to point out that the inscription on the picture is not addressed to him, but rather to someone named "Paula."

Westemeyer remembers a time when Schmulbach was concerned about lack of focus among the offensive linemen. To remedy the situation, Schmulbach dug into his own vinyl record collection and began passing out the "hit of the day" whenever a player did something to deserve it. Of course, the recipient had to listen to a story about the record and endure Schmulbach's rendition of his favorite song on the album before accepting the prize.

"By the time I had finished my senior season, Coach Schmulbach must have handed out at least 50 vinyl records from his own music collection," said Westemeyer about the treasured relics.

Never mind that none of the players owned a turntable on which they could play their "prize." The records were highly coveted awards for the members of the offensive line.

"I admired the way Coach Schmulbach always saw both where a person stood and where that person's potential could take him in life," related Westemeyer. "That is something that I aspire to do when I deal with people in my life."

Schmulbach officially will close the door to his Carver Center office in February. When he does, he will be the final link on the football staff to the Vikings' four NCAA Division III national championship teams of the mid-1980s. How does he plan on spending his retirement? In typical Schmulbach fashion, his answer was both funny and touching.

"People tell me the fall is a wonderful time of the year, and I would like to find that out for myself," he said in reference to the fact that since his coaching career began 40 years ago, he hasn't had much time for himself when the leaves turn. And he added, "We've got two grandchildren now, and we would like to spend some time watching them grow."
Contact Augustana Magazine editor Debbie Blaylock by email; by phone at (309) 794-8979; or by mail at Augustana College, 639 38th St., Rock Island, Ill., 61201.