February 16, 2012
2012 Season - Vikings win seven events at triangular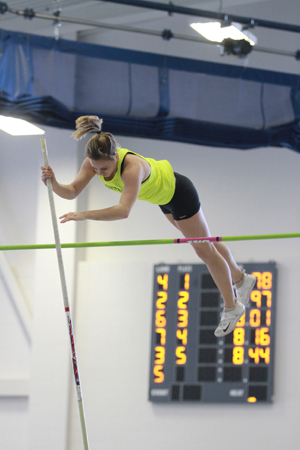 Sophomore Taelar Hillyer cleared 11' 7 3/4" to win the pole vault Thursday at Augustana's triangular meet with St. Ambrose and Ashford.
ROCK ISLAND, Ill.-Sophomores Kierra Smith (Creston HS, Creston, Iowa) and Kate Benge (Pleasant Valley HS, Bettendorf, Iowa) each picked up individual and relay wins Thursday as Augustana finished second in a triangular meet with St. Ambrose and Ashford. The Vikings finished with 72.5 points. St. Ambrose won with 87 points and Ashford finished third with 45.5.
Benge led an Augustan sweep in the 800, winning in a time of 2:22.38. Freshman Jessica Bacon (Rock Island HS, Rock Island, Ill.) and junior Jennifer Prazak (Naperville North HS, Naperville, Ill.) followed with times of 2:23.97 and 2:26.53, respectively. Benge and Bacon also ran the third and anchor legs on the Vikings' winning 4x800 relay. With junior Sarahbeth Jones (Warren Township HS, Wadswoth, Ill.) and freshman Lorraine Stamberger (La Moille HS, La Moille, Ill.) running the first two legs, that unit finished in a time of 9:38.75.
Smith won the 400 in 1:01.30 and ran the second leg on Augustana's 4x400 relay winner. Sophomore Johanna Schnitzler (Downers Grove HS, Woodridge, Ill.) led off, with Prazak running third and sophomore Kelsey Moon (Mundelein HS, Wauconda, Ill.) anchor. The foursome combined for a time of 4:18.84. Smith added a third-place finish with a :09.16 in the 55-meter hurdles and Moon was third in the 600 with a 1:51.40.
Other winners for the Vikings included sophomore Taelar Hillyer (Alleman HS, Bettendorf, Iowa) with an 11' 7¾" in the pole vault, junior Annie Heifner (Oregon HS, Oregon, Wis.) with an 11:07.11 at 3000 meters and freshman Lizzie Lundine (Willowbrook HS, Villa Park, Ill.) with a 7:08.63 in the 2000. In the latter two events, sophomore Emma Grandgeorge (Sycamore HS, Sycamore, Ill.) and freshman Stephanie Burbidge (Palatine HS, Palatine, Ill.) each finished third with times of 11:53.38 and 7:10.43, respectively. Lundine also claimed second-place in the 1000, finishing in 3:18.31.
Sophomore Julia Popp (Boylan Catholic HS, Belvidere, Ill.) cleared 4' 7" to take second in the high jump. Senior Sarah Johnson's (Grayslake North HS, Lake Villa, Ill.) 5:37.74 in the mile was also good for a second-place finish. Freshman Kris Bowen (Kaneland HS, Elburn, Ill.) was third in 5:40.21.
Sophomore Liana Beauchamp (Genoa-Kingston HS, Kingston, Ill.) and freshman Astin Moravek (Riverside-Brookfield HS, Riverside, Ill.) each took third in two events. Beauchamp put the shot 37' 10" and recorded a heave of 47' 2½" in the weight throw, while Moravek went 16' 1" in the long jump and 34' 1¼" in the triple jump. Senior Morgan Gale ran a :07.82 to finish third at 55 meters.
Coach Fred Whiteside's Vikings now gear up for the CCIW Indoor Championship on February 24 in Naperville, Ill.