February 16, 2012
2011-12 Season - First ever men's lacrosse season starts soon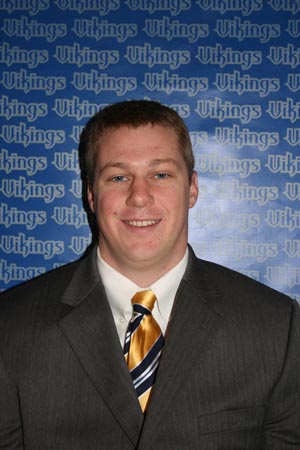 Kyle Hart will send the first ever Augustana men's varsity lacrosse team into competition in the 2012 season.
After a productive "non-traditional" fall season, Augustana head men's lacrosse coach Kyle Hart is anxious to start the inaugural varsity season in the spring of 2012. Hart, who was hired in the summer of 2010 to guide the newest of the 23 Viking varsity sports, can't wait to get started.
"We certainly got what we wanted out of the fall ball season," said Hart, who came to Augustana after a stint as an assistant coach at Muhlenberg. "We had some youngsters who were playing together for the first time and that is always an adjustment. I have been impressed with the transition this team has made."
As is to be expected with a first year program, the Vikings will be very young in 2012. Of the 32 players on the roster, a total of 26 of them are freshmen.
"In order for us to be successful we need to evolve as a young team," said Hart. "Our goal is get better on a daily basis. The best way for us to evaluate our success is to look at the progress we make as a team from the beginning of the season until the end."
Hart does have the luxury of having two upperclassmen to assume the leadership mantle on the team. Senior Marcus Maier (Loyola Academy, Wilmette, Ill.) and junior Zack McGinnis (New Trier HS, Kenilworth, Ill.) will serve as co-captains for the Vikings in 2012 and will anchor the defense. Joining them on the defensive end with be freshmen Brian Donohoue (Littleton HS, Centennial, Col.) and Jake Self (Marine HS, Huntington Beach, Calif.), a converted goalie.
Four freshmen will handle the attack positions for the Vikings. They are Jesse Nagelberg (St. Charles East HS, St. Charles, Ill.), Colin Haley (St. Charles East HS, St. Charles, Ill.), Mike McAleer (Downers Grove South HS, Bolingbrook, Ill.) and Chris Hager (Exeter HS, Newfields, NH).
Hart will from between six freshmen at the offensive midfield position. They are Vincent Giglierano (Archbishop Mitty HS, San Jose, Calif.), Doug Barrie (Lake Forest HS, Lake Forest, Ill.), JG Saunders (The Calverton School, Aquasco, Md.), Brad Anderson (Arrowhead HS, Hartland, Wis.), Tim Fennelly (Littleton HS, Centennial, Col.) and Ryan Nakamoto (Naperville Central HS, Naperville, Ill.).
The short-stick defensive midfielders will be sophomore Keegan Horack (Illinois Valley Central HS, Chillicothe, Ill.) and freshman A.J. Ramirez (Wheaton North HS, Winfield, Ill.). The long-stick defensive midfielders are all freshmen, Jeremy Gottardo (Jacobs HS, Algonquin, Ill.), Andrew Jurewicz (St. Charles East HS, St. Charles, Ill.) and Ty Benson (Libertyville HS, Libertyville, Ill.).
Freshmen Cody Burgdorff (Peak-to-Peak HS, Lafayette, Col.) and Jon Pape (Hoffman Estates HS, Hoffman Estates, Ill.) are waging a battle for the goal-keeper's position.
"We will get some tests on our spring trip and that will be a good way for us to begin," said Hart. "We can't wait for that first game. We know that each game will be a challenge and we look forward to them all."