February 16, 2012
2011-12 Season - Youth will be the key for women's lacrosse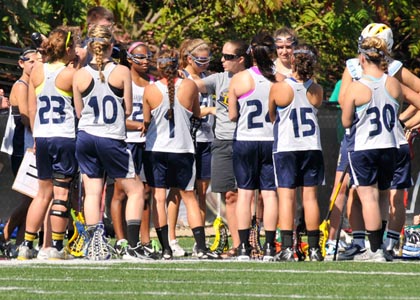 Head coach Sara Tisdale gives instructions to her Vikings during a fall scrimmage. Augustana will open the 2012 varsity season on Saturday, February 18 at The University of the South in Sewanee, Tennessee.
To say that youth will be the key to the first-ever Augustana women's lacrosse season would be a vast understatement. The Vikings will field a team that features 19 freshman on the 21 person roster and that fact is not lost on head coach Sara Tisdale.
"There will be an unpredictable factor as we head into the season and that will be whether we can overcome our youth," said Tisdale, who was hired in the spring of 2010 to bring the sport of women's lacrosse to Augustana. "This year, especially, we will have to learn from every single situation and we have to play our game. I think we have a fairly talented bunch of young ladies but figuring out how to deal with what happens on the field will be part of the learning curve."
Augustana has fielded a club team for women's lacrosse in the past but the varsity season breaks new ground for the Vikings. Tisdale will send her team out to do battle for the first time on Saturday, February 18 at The University of the South in Sewanee, Tennessee. Game time for the initial contest will be 5:00 p.m.
"We are excited to get started," said Tisdale, who served as the club coach for the women's lacrosse team at Michigan State University for three seasons before taking on the task of moving the Vikings into varsity status. "We will judge this team from first game to last. Obviously this is a young group and we will anxiously watch our maturation. With a young team, leadership will be a key component to our success."
Tisdale wants her team to play an aggressive and wide open style on offense and she thinks she has the personnel to do that.
"We want to fast-break and push the ball on every occasion," said Tisdale. "We have worked on that during the pre-season so we will see how well it translates in live competition."
The Vikings will use four attack players on offense. Freshmen Hillary Kargl (Sacred Heart Academy, Louisville, Kentucky), Christina Letmanski (Glenbard West HS, Wheaton, Ill.), Kate Zisser (Kirkwood HS, St. Louis, Mo.), Hannah Dickman (Stillwater HS, Stillwater, Minn.) and Kelly Molloy (Glenbard West HS, Glen Ellyn, Ill.) will handle the bulk of the offense for the Vikings.
In the midfield, a quartet of freshmen will get the bulk of the action. Kelly Stelzer (Wheaton-Warrenville South HS, Wheaton, Ill.) will handle the draws to start play and will be joined in the midfield by Allie Roehrenbeck (Columbus Academy, Gahanna, Ohio), Taylor Maduro (Neuqua Valley HS, Naperville, Ill.) and Gina Filippo (Libertyville HS, Libertyville, Ill.).
Freshmen Anna Kyllo (St. Croix Lutheran HS, Bloomington, Minn.) and Bridget Conniff (Benet Academy, Downers Grove, Ill.) will handle two of the four defender's positions while the other two spots are up for grabs at this time.
Freshman Sarah Osier (Naperville Central HS, Naperville, Ill.) shows great confidence as a goalkeeper and freshman Sydney Gray (Rockford HS, Rockford, Mich.) is a converted defender who has made great progress.
"We learned a lot about ourselves as a team in the fall," said Tisdale. "The physicality of the college game is so different for our players after being at the high school and club level. That has been a huge adjustment for us collectively. There will be a lot of learning this season but I am confident that our talent is good enough to carry us."