February 2012
A culture of safety
Greg Venvertloh's (pronounced VEN-ver-low) 27 years of military experience provide parallels he's putting to work as he builds "a culture of safety" as Augustana's new director of public safety.
Prior to starting at Augustana in late January, the veteran most recently was stationed near Baghdad at Victory Base Complex—the largest U.S. Army base in the Iraq theater. As the Victory Base's director of public works, he was responsible for all activities related to safety, construction, facilities maintenance, wastewater, power, air conditioning, solid waste HAZMAT collection and remediation, recycling, the environment and basic life support.
While some of his experiences might make him stand out on the Augustana campus, Greg explains three of many practical parallels.
First, perimeter safety is important at a base and at a college. He explained, "The safety of our campus is closely tied to the neighborhood around campus." Greg envisions a culture of safety that extends beyond college property, knowing that the areas adjacent to campus greatly impact campus safety and the views people hold about Augustana.
His second parallel: "Individual safety is key." Greg's military experience makes him an advocate for the buddy system, teams and moving in groups. "The entire group's safety is enhanced when all individuals are looking out for themselves and those closest to them," he said.
Finally, he credits the U.S. Army for teaching him a lot about communication. Greg knows the communication skills he's acquired will serve him well as he works to communicate "up and down the chain of command" at Augustana.
"As it relates to safety, people need to understand why and how to do certain things," he said. "And that's what I intend to help do here at Augustana."
Notes on a good partnership
By David Knuckey, principal of Longfellow Elementary School
One of the ways Webster's dictionary defines "partnership" is as "an alliance or association of persons for the prosecution of an undertaking or a business on joint account." Well, the Longfellow-Augustana partnership is an über-partnership, according to this definition.
From the moment it was first a possibility until now, it has exceeded my wildest expectations for a public school/college partnership. Yes, we have the typical Augie clinical students who are assigned to a specific Longfellow classroom. However, it's not a typical placement. The Augie students become part of the Longfellow family. They get to experience not just life in the classroom, but all the "extras" that go into a teacher's life. They help set up for special occasions like Fiesta Feliz Navidad. They help set up for family nights, like Reading Night and Science Night. Most of the clinical students attend all the after-school and family functions, as well.
This is where most public school/college partnerships end. The public school gains more one-on-one/small group interaction for their students, and the college gets to work with real elementary students. However, the Longfellow-Augustana partnership keeps on going. Longfellow is involved with the Spanish department for after-school Spanish. The music department brings a class over to interact with our students for our fourth quarter. We have had family nights planned solely by the Augustana education department. We even have had the theatre arts department as the primary performers for Longfellow's Reader's Theatre Night.
The possibilities have become truly endless—with the inclusion of all of Augustana, and not just the education department. In looking toward the future, I see the partnership growing and evolving.
I would like to take this opportunity to thank an individual without whom none of this would be even remotely possible: Dr. Charles Hyser has been instrumental in making this partnership what it is today.
Field Notes
Field Notes illustrates different kinds of experiential learning that take us places off campus. In this issue, Jane Bahls writes on attending the annual meeting of the Lutheran Educational Conference of North America (LECNA) in New Orleans with her husband, President Steve Bahls, during which they spent a day helping with continued efforts to restore the area after the devastation of Hurricane Katrina.
Tree planting was going fine until the gnats arrived. We were by a swamp in southern Louisiana, 10 college presidents and their spouses with about 100 trees left to plant. The gnats had just found themselves a feast of Lutheran blood.
Steve and I had gone to New Orleans for the annual President's Meeting of LECNA, an organization of 42 ELCA- and Missouri Synod-affiliated colleges. The annual meeting gives us a chance to hear various speakers, trade ideas with other college presidents and their spouses, and generally stay in touch with best practices in church-related colleges.
The location this year provided some additional opportunities. For one, it was the beginning of Mardi Gras season, and the French Quarter was getting boisterous. Picture Steve and me with two other college presidents leaving Antoine's Restaurant after a fine dinner, strolling through the French Quarter in sport coats and pants suit while the streets teemed with revelers in outrageous costumes. It was a Garrison Keillor moment.
Monday was devoted to a service project. Since Hurricane Katrina in 2005, Lutheran colleges have sent team after team of students to New Orleans and other devastated places along the Gulf Coast to help with cleanup and rebuild houses and churches. This was our chance to see firsthand what it's been like for them, and to add our own efforts to the cause.
We split into two groups, one to work on a house and one to plant trees for flood control. Our tree team visited Camp Restore, a former church that now serves as part of the restoration infrastructure. We saw bunk rooms, tool sheds and dining tables in the former sanctuary, big enough to house 200 volunteers and feed them three meals a day. This is one of the things I love about America: when disaster strikes, churches and colleges send teams to help rebuild. Six years later, the Lutheran colleges in particular are still coming.
The first location went smoothly. We planted 3-foot-tall bald cypress trees on both sides of a roadway through a St. Bernard Parish neighborhood settled by an ethnic group called Los Isleños, who trace their heritage to the Spanish citizens of the Canary Islands. Steve dug holes, I planted trees, and soon the job was done.
The second location had turned from grassland to swamp in the 1960s during the construction of the Mississippi River Gulf Outlet, an ill-conceived canal that bears much of the responsibility for the devastation. We need not have worried about all the fire ant hills and the threat of water moccasins. It was the gnats. But with Lutheran doggedness, we kept at it until the last tree was planted and we could dive into the vans.
Our muddy, bitten-up crew returned to the swanky Hotel Monteleone to clean up for a Cajun feast at the outstandingly hospitable Grace Lutheran Church, itself restored after the flood. A remarkable worship service featured Pastor Paul Oman painting an elaborate mural before our eyes as we listened to stories of restoration and sang songs of hope and grace.
New Face on Campus

Tarah Sipes, Manager of Campus Experience/Admissions
B.A., criminal justice and Spanish, MacMurray College,
M.A., history, University of Illinois-Springfield
While working as a residence hall director at the University of Illinois-Springfield, Tarah Sipes realized she would rather work with students "on the front end" of their college experience. She had enjoyed serving as a student ambassador in the admissions office while attending MacMurray College. So Tarah jumped at the chance to fill the newly created position of manager of campus experience at Augustana.
Tarah's job is a big one—to ensure that each prospective student who visits campus has the best possible experience. She currently is working with Amy Zero, senior assistant director of admissions, to re-evaluate the college's student ambassador program, which involves 85 students. "We're looking at what do we do well, what we don't do well... how we can do it better," Tarah explained.
With less than a month on the job, Tarah has yet to liaison with athletics and academic offices but will do so in coming months. Working with others across campus is key to helping visiting students feel welcome when they arrive and knowledgeable and enthusiastic when they leave.
This calls for a highly organized individual, and that's Tarah. She's addicted to Pinterest, the online pinboard where she organizes her ideas about crafting, sewing, baking, food crafting, even historic clothing. A self-described blog nerd, Tarah loves sharing ideas with others.
She's recently developed a keen interest in Rock Island's housing market. If anyone has any tips on homes for sale in Rock Island, let Tarah know. The sooner she can eliminate her 40-minute commute to her hometown of Aledo, the better.
From the Cabinet
Pareena Lawrence, Dean of the College
For the past three years, our faculty has been discussing curricular realignment, which has led to the current proposal under review. The primary motivation for the proposal comes from the fact that active learning practices (high-impact learning) and effective advising and mentoring require more time and effort on the part of both students and faculty. One way to address this is to realign faculty and student workload.
In October 2011, faculty voted to study the effects of curricular realignment based on a 4-1-4 semester system, in which the total number of courses required to graduate would be reduced from 41 to 35. Faculty would teach six courses (or the equivalent) over the academic year, with the majority of courses worth 4 credits. The 4-1-4 system typically would entail 15-week, 4-course semesters in fall and spring, and a 4-week, 1-course January term.
The implications of this proposal are complex, since it involves changes to both the academic calendar and the curriculum. As we model this proposal, we have been particularly focused on two issues: 1) What would these changes look like at the day-to-day, nuts-and-bolts level of individual programs? 2) Since none of the programs or experiences we offer functions independently of each other, how might these changes impact other areas? For example, Augustana has a rich tradition of student involvement in athletics, music, and other co-curricular and extra-curricular activities, and we must preserve that tradition.
We have been discussing how this model might impact student learning and the quality of experiences outside the classroom. How might it improve learning—or might it minimize certain gains we have seen in the last decade? Will the experiences currently important to our students somehow change, either positively or negatively? Might this model affect retention and graduation rates for the better or worse? Will this model make Augustana more or less attractive to transfer students?
The list of questions is long and can feel overwhelming. But if we are going to do our best to consider all the potential ramifications, we must answer these questions to the best of our ability—even if that means coming up with no more than speculative considerations based on relative likelihoods.
In the midst of these discussions, we have tried to keep central the fact that ultimately the mission of Augustana College is to help our students learn and grow in mind, spirit and body. Any change we make cannot negatively impact our ability to meet that charge.
In the next couple of months, we will carefully examine the proposed semester curricula for each Augustana program to ensure that, when the faculty is scheduled to vote in late April, they will be making an informed decision about what is best for the future of Augustana and the students we serve. We would like to engage students and other constituents in these discussions, to ensure their voices are heard and concerns addressed. We also need to encourage all constituents to focus on the bigger picture, instead of what might be best for a few programs. To read more about this proposal click here.
Seen & Heard
"Let's all be children..."—The Grass Fed Kids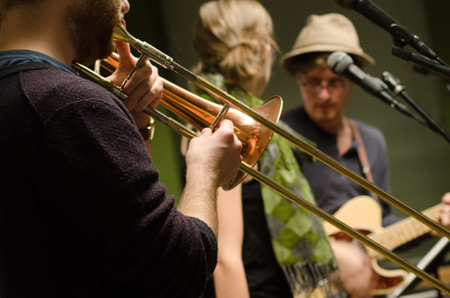 The Grass Fed Kids and other student bands, duos and solo performers entertained an audience in Brew by the Slough on January 28—an early celebration of Charles Darwin's birthday, hosted by the Darwin Club. Pictured from left to right are Erek Bell '14 (with trombone), Maggie Hayes '12 and Jaron Gaier '12 (with guitar).
Acknowledge is published by the Office of Communication and Marketing at Augustana College in Rock Island, Illinois. Contact Beth Roberts, editor. Photos in this issue were contributed by Scott Cason and Marla Alvarado-Neuerburg of communication and marketing, and Drew Barnes '14 and Kyle Soyer '13 of the Augustana Photo Bureau.