February 15, 2012
2012 Season - Augustana women 20th in track & field poll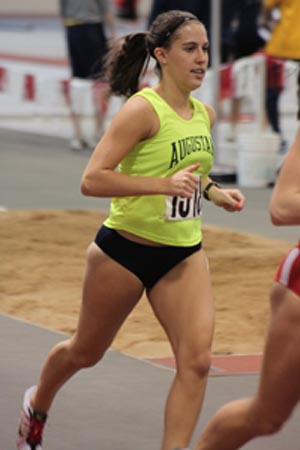 Junior Annie Heifner who won the 2,000 meter at the Augustana Invitational on Saturday, February 11th, has helped the Vikings to a 20th place ranking in the NCAA Division III dual meet poll.
After competing hard at its own invitational this past weekend, the Augustana women's track and field team increased its point total once again in the NCAA Division III indoor dual meet rankings. The Vikings now have 121.52 points, raising their point total from the 119.96 points last week, however the team dropped to 20th from 16th.
This poll, conducted by the U.S. Track & Field and Cross Country Coaches Association, quantifies the depth of each team. The team's total score is the sum of all points earned in each event. Two individual athletes are scored per event, as well as one relay team. The points are based on the best marks of an event in the current season, with the faster times and farther distances worth more.
Massachusetts Institute of Technology stayed on the top of the rankings for the second consecutive week, accumulating 148.53 points. UW Oshkosh (146.01) remained in second, while Tufts jumped up to third with 143.29 points.
So far this season the Vikings have competed in a total of five meets. On January 14th, Augustana competed in Dubuque, Iowa at the Sol Butler Classic, finishing second of nine teams. The Vikings then competed at the Midwest Invitational on January 21st at Monmouth College, finishing with five even winners. No team scores were kept at that meet. On January 28th, head coach Fred Whiteside's team competed at the Wartburg Select meet in Waverly, Iowa. The Vikings were second in the three team event, including four event winners. This past weekend the Vikings placed third of 19 teams at the Jim Green Invitational hosted by Illinois College. The Vikings won 8 events on February 11th while competing in the Augustana Invitational at the PepsiCo Center in Rock Island, Illinois.
The Vikings will host a dual meet against St. Ambrose on Thursday, February 16 in the PepsiCo Center.
2012 NCAA DIVISION III INDOOR DUAL MEET POWER RANKINGS
Sponsored by the USTFCCA
As of 02/14/2012
POLL #4
| | | | |
| --- | --- | --- | --- |
| RANK | SCHOOL | REGION | POINTS |
| 1. | Massachusetts Institute of Technology | New England | 148.53 |
| 2. | University of Wisconsin, Oshkosh | Midwest | 146.01 |
| 3. | Tufts | New England | 143.29 |
| 4. | Ithaca | Atlantic | 142.52 |
| 5. | University of Wisconsin, LaCrosse | Midwest | 139.14 |
| 6. | Wartburg | Central | 138.33 |
| 7. | North Central | Midwest | 138.19 |
| 8. | Washington University | Midwest | 135.13 |
| 9. | Southern Maine | New England | 131.84 |
| 10. | College of New Jersey | Atlantic | 131.10 |
| 11. | University of Wisconsin, Stout | Midwest | 129.27 |
| 12. | University of Wisconsin, Stevens Point | Midwest | 128.46 |
| 13. | Illinois Wesleyan | Midwest | 125.98 |
| 14. | Ohio Wesleyan | Great Lakes | 125.16 |
| 15. | University of Wisconsin, Whitewater | Midwest | 123.52 |
| 16. | Christopher Newport | South | 123.37 |
| 17. | Nebraska Wesleyan | Central | 122.98 |
| 18. | Bates | New England | 122.81 |
| 19. | Carthage | Midwest | 122.27 |
| 20. | AUGUSTANA | Midwest | 121.52 |