Augustana's vet school placement crushes national average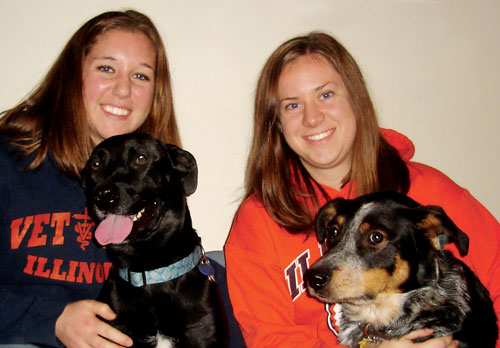 From the left, Nicki Dahm '09, Gracie, Julie Disney '09 and Dakota

Getting accepted to veterinary school is tough. There simply aren't enough first-year seats for all the qualified students who want to become veterinarians.
From 2004-2010, applicants serviced through the American Veterinary Medical Association (AVMA) increased from 4,447 to 6,265. Add the fact that there are only 28 U.S. universities and colleges with AVMA-accredited veterinary medicine programs, compared to nearly 150 U.S. medical schools-and you get the picture.
Augustana's pre-veterinary medicine students, however, are bucking the trend. Over the past five years, 82.1 percent of Augustana students applying to vet school have been admitted-nearly double the national average.
In the past 10 years, Augustana students have been accepted into 13 different veterinary schools. This includes the University of Illinois College of Veterinary Medicine (UICVM), which has had an early acceptance agreement with Augustana since 2006. Of the 29 Augustana students who have interviewed at UICVM for this program, 27 have been accepted.
"Augustana has a great reputation with veterinary medicine schools because of their history with our students," said Dr. Darrin Good '87, biology professor and one of two advisors for pre-vet students at Augustana. "The students who have gone before have been hugely successful, so even if a candidate is borderline for acceptance, they are more likely to get the nod because they're from Augustana."
Last fall, eight Augustana sophomores interviewed, and seven were accepted to the coordinated degree program with UICVM. They are Lamise Al-Basha, Christine Braun, Jessica Butler, Audrey Robertson, Lauren Schneiderbauer, Alexandra Stahlhut and Samantha Volz.
These students must maintain a minimum grade-point average to continue to be eligible for the UICVM program. The agreement is not only an early acceptance program, but also a 3-4 program; students may choose to enter vet school after their third year at Augustana.
After their first year at UICVM, they return to graduate from Augustana, then finish the remaining three years at UICVM for a total of seven years. Those who stay at Augustana for their senior year are guaranteed a seat.
Two 2009 Augustana graduates, Nicki Dahm and Julie Disney, currently are studying at UICVM. Dahm enrolled after three years at Augustana and will earn her D.V.M. in 2012; Disney will graduate in 2013.
"Staying for my fourth year at Augie allowed me to study abroad in Vietnam and Nicaragua as well as complete my capstone project for the Honors program," Disney said. Dahm opted for the 3-4 program because of time and financial reasons, and is glad she did.
Another advantage to Augustana's pre-vet program includes the personal attention students receive from professors and advisors. As soon as they declare their interest in veterinary medicine, students are handed a detailed four-year timetable of expectations, time management techniques and advice based on the experiences of those who have gone before them.
"At smaller colleges like Augustana, you will get the personalized attention," Dr. Good noted. "But what's great about Augustana is that it has a huge biology department offering more than 40 different courses. Some courses, such as immunology and parasitology, are seldom offered at schools of our size."
He adds that "the rigor of Augustana's academics is respected among graduate schools; these schools know our pre-vet students are challenged not only in the sciences but across the curriculum."
Even so, Dahm says she definitely studied more during her first year at UICVM than ever before. "However, I really learned how to study effectively at Augustana," she said. "And my classes there gave me a great knowledge base for vet school. Even the Greek/Latin one-credit course I took was useful for learning roots of words that we use in medicine."
Augustana's location and Dr. Good's numerous professional and graduate school contacts also play a role in the success of students. It's essential that pre-vet students log hundreds of hours in varied clinical or research experiences. The Quad-Cities area offers multiple opportunities with local clinics specializing in small animals (dogs, cats), large animals (cattle, pigs, horses) and exotic animals (Niabi Zoo). An emergency medicine clinic is another option.
"Some schools are located in places that just can't offer these different kinds of clinical experiences, but we can," Dr. Good said.
Opportunities afforded by Augustana's pre-vet program are attracting the attention of prospective students. The number of first-year students interested in the college's pre-vet program has doubled in the past four years.