Library's Special Collections sets a record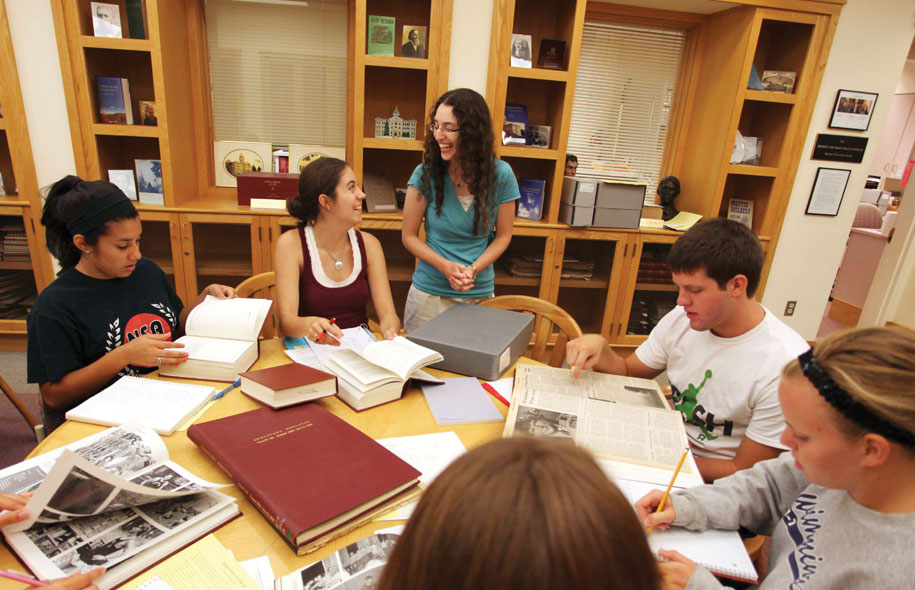 Special Collections librarian/instructor Sarah Horowitz
Rogers '12 presents research essay at national conference

For his history Senior Inquiry course with Dr. Jane Simonsen, Michael Rogers conducted archival research in Special Collections and wrote an essay titled "From Boys to Men: Building Manly Character in the 'Big Hike,' 1915-1930." His paper focused on the Black Hawk Hiking Club, an outdoor club for boys started by John H. Hauberg in the early 20th century. Rogers was invited to present his paper at the Phi Alpha Theta (National History Honor Society) conference in Orlando, Fla., which he did earlier this month.
During fall term 2011, a record-breaking one of four first-year students not only found Special Collections tucked away on the first floor of the Thomas Tredway Library, but also pored over its rare books, manuscripts, diaries and photographs, and wrote papers based on the research.
"What makes this quite remarkable is that this is the kind of experience first-year students can't or don't get at other colleges, either because the colleges don't have a rich Special Collections or because their Special Collections librarians have not reached out to faculty," said Carla Tracy, director of the Thomas Tredway Library.
Dr. Meg Gillette, assistant professor of English, is a familiar face in Special Collections. She has brought in 12 first-year classes over the past six years. She's convinced that requiring first-year students to write papers based on primary sources helps them make the transition to college writing.
"In high school, students learn how to write reports about what others think of a topic, but at Augustana, they are expected to bring their own ideas to the conversation-no easy task," Dr. Gillette said. "Working with little-known materials, students get to experience the thrill of conducting original research and of adding their discoveries, ideas and voice to an academic conversation.
"With real things to say, they don't have to dress up their writing with fancy jargon and overly complicated sentences. Having seen the research with their own eyes, students grow confident in what they have to say, and because the conclusions are their own-not summaries of the work of other scholars-their writing often becomes more natural, honest and surprising.
Through the years, Special Collections has become a destination for students, and also staff, faculty and community members. In 1999, the year before librarian/instructor Jamie Nelson was hired, only 62 information requests were recorded. Last year, the number of requests was 857, which included 718 visits by students to take advantage of the resources and the expertise of Nelson and fellow Special Collections librarian/instructor Sarah Horowitz.
The librarians' outreach to Augustana faculty has been, one could say, a grassroots campaign. "Word of mouth mostly," Horowitz explained. "Once they come in and have a good experience, they keep coming back, and they tell their colleagues about us."
To spread the word further, Nelson and Horowitz comb the college catalog for new courses that incorporate a research option and contact those professors to "get them thinking about Special Collections." They also seek out new hires replacing faculty who traditionally brought in classes.
"Now faculty are contacting us before we're contacting them," noted Horowitz, with no complaints.
When a first-year class comes to Special Collections, the librarians work with the students as a group and one-on-one on how to (1) gather preliminary information about their topic, (2) carefully read and examine materials with care, (3) analyze materials and formulate a research question, and (4) find supporting/conflicting information.
"Doing research in Special Collections brings students in touch with the humanity of history," said Dr. Jane Simonsen, associate professor of history. "By seeing the handwriting, looking at the way photos are arranged in old scrapbooks, and even the physical experience of lifting a big, old book, they can understand historical actors as more than just shadows. The records in Special Collections are tangible in a way that a textbook is not."
Students also can follow a trail and look for their own answers, Dr. Simonsen added. "They may notice an odd line in a letter-why would this person write that? It gives them the experience of seeking answers that aren't ready-made through the textbook editor's own arrangement. They learn that, sometimes, there aren't tidy answers."