Augie Choice funding tops $1 million
Read the complete Winter 2012 Augustana College Magazine here
---
Through Augie Choice, Augustana students can receive $2,000 to support a qualifying hands-on learning experience of their choice, such as international study, faculty-led research or an internship. This provides students with the opportunity for the kinds of learning that will help them stand out when they start looking for a job or applying to graduate schools.
From the summer of 2010 through this February, 554 Augustana students have used Augie Choice funds totaling $1,108,000. When Augustana students are granted Augie Choice funding, they agree to write a reflection essay upon their return. To illustrate the impact of an Augie Choice experience, we offer the following reflections written by Augustana students.
---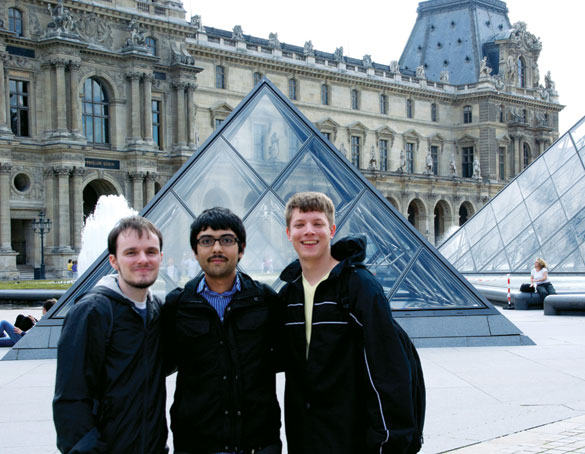 From the left, Peter Dennee '12, Zain Dada '12 and Peter Gosiewski '13 in front of the Pavillon Denon in Paris.


Summer French in Dijon University of Burgundy
Zain Dada '12
During the summer of 2011, I participated in an intensive French language program held at the University of Burgundy in Dijon, France, as part of a program offered through the French department at Augustana College. For me, this once-in-a-lifetime opportunity to study abroad was made a reality through funding provided by Augie Choice and a grant awarded to me by the Freistat Center. Without this financial aid, I would have missed out on a life-changing experience that allowed me to develop confidence in communicating in French, as well as provide me with the direction I need to pursue a career that will allow me to integrate my passion for the French language with my other field of study in computer science.
As a first-generation American, I have grown up with an appreciation for the deeply rooted connection language has within a society. With two parents who were born and raised halfway across the world, I realized that you cannot begin to understand or value another society until you have become a part of it, a significant requirement of which involves being able to speak the language of the people who live within it. However, being a Muslim of Middle Eastern descent, my desire to study French and live in France has bewildered many of my friends, who are always the first to let me know when there is a new story in the press about the abuse of Muslims in the country. Constantly hearing of France's negativity towards Muslims through the media, I needed to experience France firsthand. For me, the goal of this trip was to see beyond the superficial view of France portrayed by the media, to see it from the inside and through the eyes of its citizens by immersing myself in the language and talking with French citizens. In doing so, I hoped to determine if there was a place for me in French society, and if in the future I could move to France without feeling like an outlier because of my race and heritage. Throughout our six weeks in France, I found my attitude towards the French lifestyle evolved from frustration to appreciation-a good sign, considering the opposite would have left me disheartened about my decision to pursue my degree in the French language. Although it was readily apparent from the moment of our arrival that we were no longer in the United States, our mentalities, including my own, were reluctant to make certain adjustments, thus resulting in cultural misunderstandings and general negativity on our behalf that surprisingly resembled many of the assertions of tourists and the media. Fortunately, because the program allowed us to remain in the country for a longer time period than the average foreign visitor, we had the time necessary to adjust from our U.S.-centric preconceptions, and soon enough, I found myself integrating well into French society.
Although our classes in Dijon were focused on French grammar, I was grateful when I found out our French professors had structured the curriculum such that we were able to study the language through readings and lectures that highlighted the important aspects of French culture, as well. For me, this was truly exciting, for even when I was in class, I found myself getting closer to reaching my goal of seeing France as an insider rather than an outsider. Class discussions with professors who understood the culture and were willing to openly share their opinions fueled my understanding of the French society, and over time, I came to realize that although the French people may seem cold and unfriendly, it is not necessarily because they "hate" people who are different. I also was reminded that the key to understanding a society truly does lie within the language, for in France, if you do not speak French, or do not speak it well, many people will become confused or offended, which is much the same way some Americans react towards Mexican immigrants who do not embrace English.
Through my personal encounters, I never once felt like I was being treated poorly because of my assumed heritage based on my skin color. It seemed clear to me that much of the claimed "hatred" that Muslims believe the French have against them has little to do with a direct attack towards the Muslim people or its religion. From an insider's perspective, it seemed clear to me that France and its citizens are not "haters," rather they are people who are struggling to adjust to a rapidly evolving society as a result of the large influx of immigrants from Africa, who just happen to be Muslim. Their feelings reflect the way some American people are distraught over the increasing number of Mexicans crossing our border, forcing changes in our society.
Coming to the conclusion that "hate" was not the main driving force of the conflict between Muslims and the French, I found myself relieved that I had not spent the majority of my time in college studying a language of a country in which I would not belong. I spent the rest of the term studying hard and applying the skills I learned in class in conversations with local residents. It was during two separate conversations that I was told that there was a very high demand for people like me in France, for people with both computer skills and a solid foundation in French to design software and websites. Hearing this news from two separate sources made me think that this was a definite sign for me to return to France and use what I have learned at both Augustana and the University of Burgundy to establish a solid career.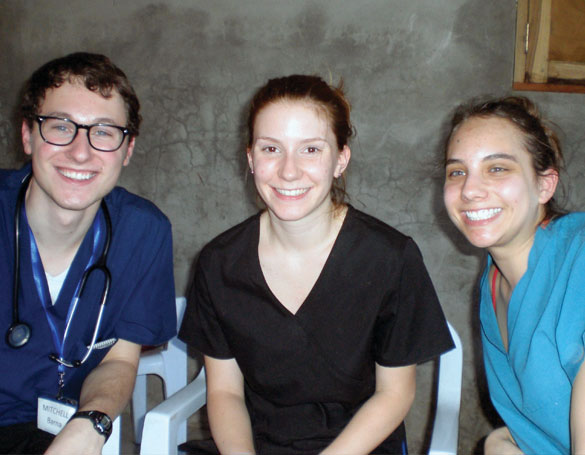 From the left, Mitch Barna '12, Sara Hewitt '12 and Angelica Lorenzo '12 at a medical clinic in Nicaragua.

Medical Service Learning in Nicaragua
Sara Hewitt '12
[Excerpt] This trip made me realize a lot about myself. I was worried that I would get to medical school and discover that I was not cut out for a job as a doctor. This experience really let me work as a doctor to diagnose and treat patients. I learned I could work with patients and think on the spot to figure out their problems. I was also worried that I wouldn't be able to do a proper physical exam and take blood glucose tests and do urinalysis, but after this trip, I have learned how to properly do all of these tests and how to understand the results. This was a great experience because we never would have had the opportunity to do anything like this here in the U.S. I feel like I have what it takes to be a doctor, and a lot of my fears about working with patients have gone away.
Not only did this experience teach me about medicine and how to work with patients, it also taught me about the different fields of medicine. The majority of the patients we saw were young children. I have been trying to decide what area of medicine I want to focus on, and this trip helped me narrow it down. I was deciding if I wanted to be a pediatrician or specialize in a field of pediatrics, but after this trip I realized I do not have the patience needed to work with young children.
It seemed like every child we saw during clinic days would look at our group of Augustana students and just start crying. I had no idea how to calm the children and what to do to make them unafraid. I think part of the problem was the language barrier, because I speak almost no Spanish, but I still feel like I could not work with children on a daily basis. This is something I have been debating for quite some time, and it was nice to get some hands-on experience.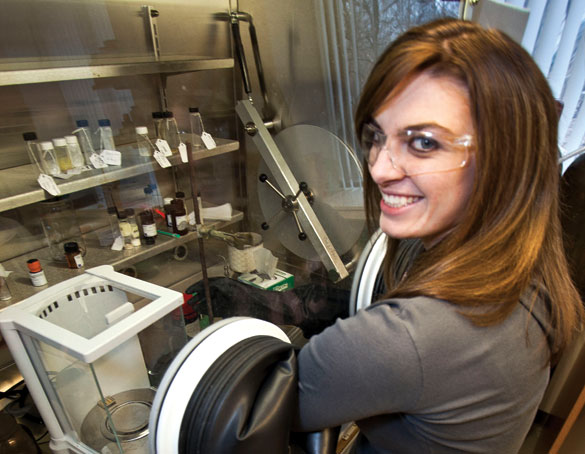 Kristine Counter '12 works in the chemistry lab's "glove box," which keeps chemicals free of air and moisture.

On-campus, Professor-led Chemistry Research
Kristine Counter '12
[Excerpt] This summer research proved to be an excellent learning experience for me and taught me more advanced techniques that are not learned within the classroom or lab. As a result, I feel it has better prepared me for a career after college with experience that others right out of college may not have had. It also went into more detail about the concepts we learned within the classroom, and as a result, enhanced everything that I learned while being here at Augustana. This was a great opportunity and experience, and I am happy that I was able to gain as much as I did from it.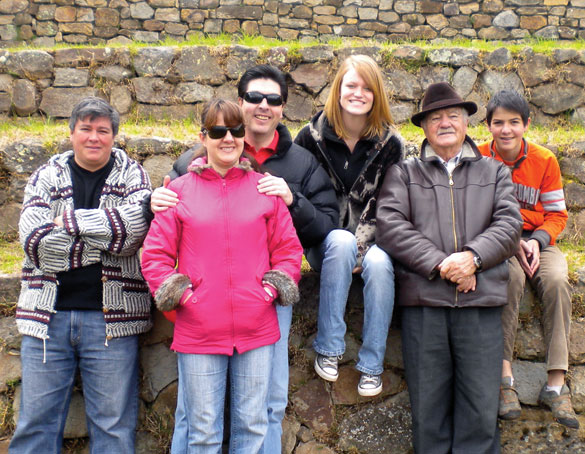 From the left, host uncle Fernando, host mom Maricela and host dad Santiago, Lindsey Kutcher '13, host grandpa Justo and host brother Juan Santiago.

Summer Spanish in the Andes Program
Lindsey Kutcher '13
[[Excerpt] After this experience I challenge everyone, including myself, to not live to work. I think that there is so much more depth to relationships and people than there is to work. Yes, I think we should be passionate about our work, but live to love, not to work. I think Latin America is onto something in regards to its value system. Since the day I learned of these cultural differences, I was able to see and appreciate these differences while living in Ecuador. Since I was able to live out these new values, my mind has been transformed to think differently about the world. I have a new lens to look at life through. Being back in the United States, I have missed some of these cultural differences that I discovered in Ecuador.
In fact, I have had an extremely difficult time readjusting to the culture of the U.S. because of the shift in my thinking and mindset. There is so much focus on perfection of the individual and such a strong focus on time. I find myself rushing to get through all my checklists constantly in the United States. In Ecuador, the focus is on family, relationships and a life of tranquility.
My host dad's favorite word was "tranquilo," which translates to a combination of calm, peaceful and tranquil. We lived in the present without worry. I usually have a hard time with this in the U.S. I usually live in the past or future, but in Ecuador it was so much easier to live in the present. When my host aunt dropped off corn, we made a meal out of it on the spot. We didn't have to plan out every little thing, and we went with whatever came our way. For example, one night we were eating dinner at 8 p.m. and afterword my host uncle took us on an unexpected trip to Turi, a lookout where you can see all of Cuenca, Ecuador.
I experienced this "tranquilo" in my classes, too. The atmosphere was relaxed in the sense that we were encouraged to not worry about making mistakes but to be brave in our Spanish-speaking abilities. We had to work for our grades, but we had the freedom to make mistakes and then learn from them.
Contact Augustana Magazine editor Debbie Blaylock by email; by phone at (309) 794-8979; or by mail at Augustana College, 639 38th St., Rock Island, Ill., 61201.