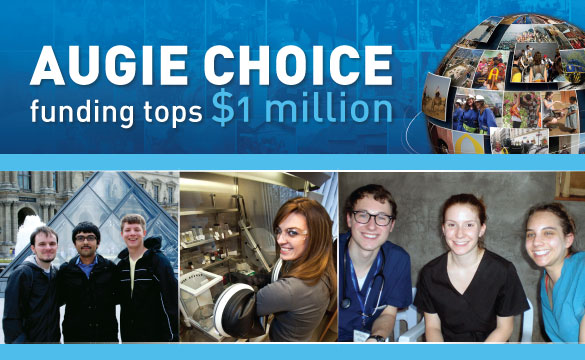 Through Augie Choice, Augustana students can receive $2,000 to support a qualifying hands-on learning experience of their choice, such as international study, faculty-led research or an internship. This provides students with the opportunity for the kinds of learning that will help them stand out when they start looking for a job or applying to graduate schools. MORE...
Gerbers lead with $6.3 million gift

Murry Gerber '75 and his wife Cindy have given $6.3 million to Augustana College, with $3.3 million to go toward the college's new Center for Student Life and $3 million for the college's endowment, with a substantial portion set aside for scholarships for geology majors. MORE...

Coach Tom Schmulbach making a difference for 30 years

Considering all the on-the-field accomplishments that Tom Schmulbach was involved in during his 30 years as a football coach at Augustana, it would be easy to think that his personal highlight would involve something tangible and material. MORE...




Library's Special Collections sets a record

During fall term 2011, a record-breaking one of four first-year students not only found Special Collections tucked away on the first floor of the Thomas Tredway Library, but also pored over its rare books, manuscripts, diaries and photographs, and wrote papers based on the research. MORE...




Augustana's vet school placement crushes national average

Getting accepted to veterinary school is tough. There simply aren't enough first-year seats for all the qualified students who want to become veterinarians. MORE...