February 14, 2012
2011 Season - Jones earns All-Academic honor from USTFCCCA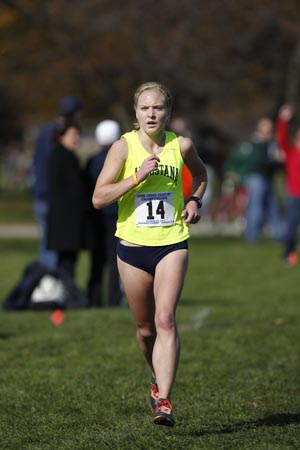 Junior Sarahbeth Jones, the Most Valuable Performer on the 2011 Augustana women's cross country team, was named to the All-Academic team in NCAA Division III by the United States Track & Field/Cross Country Coaches Association, it was announced on Tuesday, February 14.
NEW ORLEANS, Louisiana - Augustana junior Sarahbeth Jones (Warren Township HS, Wadsworth, Ill.) has been selected as a 2011 All-Academic honoree from the United States Track & Field/Cross Country Coaches Association, it was announced today. Jones was one of just 183 women's cross country runners in NCAA Division III to earn the honor.
In order to qualify for the USTFCCCA All-Academic Cross Country Team, the student-athlete must have compiled a cumulative grade point average of 3.30 or better through the most recent grading period and placed in the top 35 at the NCAA Division III Regional Championship.
Jones enjoyed a tremendous fall for veteran head coach Fred Whiteside's Vikings. She started the 2011 women's cross country season at Augustana with a bang. She ended it as the Vikings' Most Valuable Performer, according to a vote of her teammates after the team's annual awards banquet on Sunday, December 11 at Blackhawk State Park.
Jones had been a solid top-seven performer in her first two years of competing for Augustana. This year, however, she rose to new heights as she was the Vikings' number one runner in each of the eight meets she competed in.
She started the season with a victory at the Augie Open on September 1 in sweltering heat at Sylvan Island Park. That began a string of success that didn't end until the NCAA Division III Midwest Regional Championship at Saukie Golf Course on Saturday, November 13.
Jones won both the Augie Open and the St. Ambrose Invitational on October 8. She also recorded top-10 finishes in three other invitationals. After winning the Augie Open, she was ninth at the Luther All-American Invitational on September 10 in Decorah, Iowa. She took seventh in the Brissman/Lundeen Invitational on September 23. Her next outing was the victory at St. Ambrose and she followed that with a third at the Loras Invitational on October 14.
She turned in a sterling performance at the College Conference of Illinois & Wisconsin championship meet on October 29 when she placed fifth with a time of 23:21 at Montrose Harbor in Chicago. Her season ended with a 27th place finish at the Midwest Regional.
Jones was named the winner of the Jack Swartz Award from the CCIW in the fall of 2011 for her ability to combine athletic prowess with academic excellence. She carries a 3.54 grade point average with majors in English and communication.