Augustana Choir to celebrate 50th anniversary of War Requiem
February  13, 2012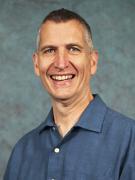 Dr. Jon Hurty
From Feb. 14 to March 4, the Augustana Choir will tour Germany and perform as part of an international festival to commemorate the 50th anniversary of composer Benjamin Britten's masterpiece, War Requiem, and then return to the Quad Cities for two performances.
The Augustana Choir will leave on Valentine's Day, rehearse for three days in Detmold, Germany, and perform War Requiem on Feb. 18-19 in that city. The choir will extend its time in Germany for an a cappella tour, before returning to perform War Requiem on March 3-4 in the Quad Cities.
"This is a once-in-a-lifetime opportunity for our students to perform a work of this magnitude," said Dr. Jon Hurty, professor of music and director of choral activities at Augustana. "It is even more special that it comes on the 50th anniversary of the premiere of the piece, and that we are able to perform it both in Germany and in the United States."
In addition to the Augustana Choir, festival performances will feature members of the Quad City Symphony Orchestra, Quad City Choral Arts, University of Minnesota Chamber Orchestra, University of Minnesota Symphony Orchestra, University of Minnesota Chorale, and Hochschule für Musik Detmold Orchestra and Choir. The musicians involved will change slightly for each concert location, but the performance ensemble always will include musicians from each of the host cities.
The choir was invited to participate in the festival by Mark Russell Smith, music director for the Quad City Symphony Orchestra and director of orchestral activities for the University of Minnesota. Smith and his German colleague Karl-Heinz Bloemeke will conduct the production. Internationally revered vocalist Dietrich Fischer-Dieskau is a patron of these performances.
Britten's War Requiem is an epic 80-minute performance involving two orchestras and a large chorus. It is a non-liturgical setting of the Requiem Mass (Mass for the dead), with nine poems by English poet and fallen World War I soldier Wilfred Owen interwoven throughout the piece. It is a plea for peace based on concerns about the human condition, the human toll of war and the futility of war. Britten wrote it for the re-consecration of Coventry Cathedral in Great Britain in 1962, as the original building was destroyed in World War II.
"This masterwork and its message will become a part of these students for as long as they live, whether they become professional musicians or not," said Smith. "We will all be different because of it. The audience will be different because of it, and that's what great art can do that nothing else can."
The educational goal of such an ambitious project is to combine the learning of the music, its poetry and its cultural context to inspire an enlarged world understanding on the part of the students. To better achieve this goal, many of the Augustana students and the University of Minnesota students are participating in a cross-curricular course focusing on the various elements of the monumental work.
Benjamin Roth, an Augustana senior from Palatine, Ill., said, "I have never been able to do something like analyze a piece the way we have been doing in class, and then apply the knowledge and connection that same day. It is making the music person in me dance."
The course at Augustana is a collaboration involving Campus Chaplain Richard Priggie, Professor of English Dr. David Crowe and Dr. Hurty. Both Dr. Hurty and Smith believe this cross-curricular preparation and lengthy rehearsal process are the best way to digest this work—with its inventive music, striking poetry and religious significance—and to best consider and understand its sociocultural influences.
"I hope that for the rest of my life I will have opportunities to collaborate with different musicians," said Tim Christiansen, an Augustana senior from Park Ridge, Ill. "The other students will be coming from an environment that studies, performs and holds music to different standards—not to say they are right and we are wrong, just different. We will learn a lot from them, and vice versa."
Augustana Choir's War Requiem performance schedule:
Saturday, Feb. 18: War Requiem Hochschule für Musik Detmold, Germany
Sunday, Feb. 19: War Requiem Hochschule für Musik Detmold, Germany
Saturday, March 3: War Requiem Adler Theatre Davenport, Iowa
Sunday, March 4: War Requiem Centennial Hall, Augustana Rock Island, Ill.
Tickets for the concerts on March 3 and 4 are available through the Quad City Symphony Office.
Sam Schlouch
Senior Communication Director
(309) 794-7833
samschlouch@augustana.edu