February 11, 2012
2012 Season - Vikings win eight events at Augustana Invite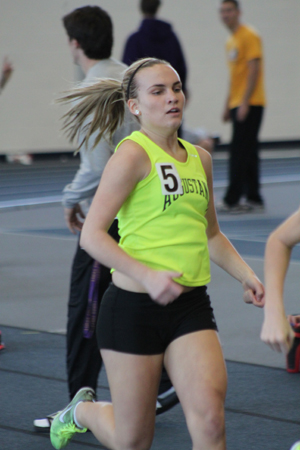 Freshman Jessica Bacon won the 1000 meters and led off the winning 4x800 relay Saturday at the Augustana Invitational.
ROCK ISLAND, Ill. - Freshman Jessica Bacon (Rock Island HS, Rock Island, Ill.) won the 1000 and led off the winning 4x800 relay Saturday at the Augustana Invitational. The Vikings totaled eight wins on the day. No team scores were compiled.
Joining Bacon on the all-freshmen 3200 relay unit, which finished in 10:22.52, were Stephanie Burbidge (Palatine HS, Palatine, Ill.), Lizzie Lundine (Willowbrook HS, Villa Park, Ill.) and Hailey Jacobs (Woodstock HS, Woodstock, Ill.). The 4x200 relay team of senior Cat Foreman (St. Joseph-Ogden HS, St. Joseph, Ill.), freshmen Veronica Bertillotti (Prospect HS. Mt. Prospect, Ill.) and Laura Polizzi (Crystal Lake South HS, Crystal Lake, Ill.) and senior Morgan Gale (Oregon HS, Oregon, Ill.) also pick up a win, running a 1:55.93.
Bacon's winning time in the 1000 was 3:03.42. Senior Melissa Lehpamer (Plainfield South, Plainfield, Ill.) was third in 3:37.23.
Other winners for the Vikings included Gale, with a :07.79 in the 55, sophomore Kierra Smith (Creston HS, Creston, Iowa) with a :43.64 at 300 meters, junior Sarahbeth Jones (Warren Township HS, Wadsworth, Ill.) with a 5:13.09 in the mile, junior Annie Heifner (Oregon HS, Oregon, Wis.), who ran a 7:34.37 in the 2000 and Taelar Hillyer (Rock Island Alleman HS, Bettendorf, Iowa), who cleared 11' 1¾" in the pole vault.
Augustana claimed the top five spots in the 300. After Smith, came freshman Krista McCurrie (Stagg HS, Palos Park, Ill.) (:44.86), Gale (:44.87), junior Kate Dinkel (Maharishi HS, Fairfield, Iowa) (:46.66) and sophomore Karly Losch (Pittsfield HS, Pittsfield, Ill.) (:47.85). The Vikings garnered the top four places in the 55, with Foreman (:07.94) taking second behind Gale, and Dinkel and freshman Astin Moravek (Riverside-Brookfield HS, Riverside, Ill.) finishing in a tie for third at :08.09.
The hosts took the top three places in the pole vault and 2000 meters. Junior Taylor Tjardes (Gibson City-Melvin-Sibley HS, Gibson City, Ill.) cleared 9' ¼" and freshman Elise Davis (Columbine HS, Littleton, Colo.) 8' 2½" to take second and third in the pole vault. Burbidge (7:34.40) and junior Amanda Rodriguez (Mahomet-Seymour HS, Mahomet, Ill.) (7:34.60) finished second and third at 200 meters. Lundine ran a 5:34.77 to finish second behind Jones in the mile.
Smith and sophomore Johanna Schnitzler (Downers Grove South HS, Woodridge, Ill.) took second and fourth, respectively, in the 55 hurdles, with times of :08.90 and :09.34.
The Vikings grabbed spots two through five in the long jump. Moravek was second with a leap of 15' 2", followed by Bertillotti's 14' 7¾", Schnitzler's 14' 3¾" and a 14' 2½" mark by junior Samantha Bazely (Rock Island Alleman HS, Coal Valley, Ill.). Moravek (33' 3¾"), Polizzi (33' 1") and Bazely (31' 10¼") placed third through fifth in the triple jump.
Sophomore Kate Benge (Pleasant Valley HS, Bettendorf, Iowa) was second in the 500 with a 1:21.49, followed by teammates junior Jennifer Prazak (Naperville North HS, Naperville, Ill.) and freshman Alicia Hughes (Oswego HS, Oswego, Ill.), who ran 1:25.33 and 1:40.42, respectively, for fourth and fifth.
Sophomore Liana Beauchamp (Genoa-Kingston HS, Kingston, Ill.) took second in the weight throw (45' 10") and third in the shot (35' 8½"). Senior Amber Gruber (Rolling Meadows HS, Arlington Heights, Ill.) and junior Bethany Siwek (Woodstock HS, Woodstock, Ill.) garnered top five finishes in each of those events as well. Gruber was fourth in the weight throw with a heave of 40' 3 ¼" and Siwek fifth with a mark of 36' ¾". The two swapped spots in the shot, with Siwek throwing a fourth-place 31' 2½" and Gruber placing fifth with a 31' 1¼".
Schnitzler and sophomore Julia Popp (Rockford Boylan HS, Belvidere, Ill.) each cleared 4' 9¾" in the high jump, with Schnitzler finishing third and Popp fifth.
At 3000 meters, senior Sarah Johnson (Grayslake North HS, Lake Villa, Ill.) finished third with a time of 11:09.02 and freshman Kris Bowen (Kaneland HS, Elburn, Ill.) was fifth in 11:27.79. Augustana also got third-place finishes from Foreman in the 200 (:28.80) and Popp in the 400 (1:09.56). Sophomore Kelsey Moon (Mundelein HS, Wauconda, Ill.) was fourth in the 800 in a time of 2:34.81.