February 11, 2012
2011-12 Season - Vikings defeat Elmhurst 71-61 on Senior Night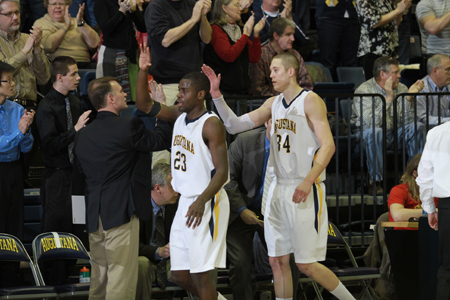 Seniors Troy Rorer and Bryant Voiles are congratulated by assistant coach Dallas Duwa as they leave the court during Augustana's 71-61 Senior Night win over Elmhurst. Voiles had 20 points, 13 rebounds and seven assists, while Rorer added 14 points, six boards and four assists.
ROCK ISLAND, Ill. - Bryant Voiles (Byron HS, Byron, Ill.) had game highs of 20 points, 13 rebounds, seven assists and two blocked shots Saturday as Augustana claimed a 71-61 Senior Night win over Elmhurst at Carver Center. Fellow senior Troy Rorer (Bettendorf HS, Bettendorf, Iowa) added 14 points, six rebounds and four assists as the Vikings improved to 18-5 on the year and 8-4 in CCIW play. The Bluejays fall to 11-12 overall and 5-7 in the league.
The visitors jumped out to a 15-10 lead with 11:26 left in the first half behind six points from freshman Brandon Grubl. He had a traditional three-point play to get Elmhurst on the board and gave the Bluejays their biggest lead of the night when he dropped in a three-pointer that danced around the rim before falling.
Back-to-back three-pointers from senior point guard Brian DeSimone (Buffalo Grove HS, Wheeling, Ill.) and Voiles kick started a 17-2 Viking run that was capped off by a pair of treys from freshman Mark Roth (Washington HS, Metamora, Ill.). That gave Augustana its biggest lead of the first half at 27-17. However, the Bluejays answered with an 11-2 spurt of their own to make it 29-28 with 3:27 remaining before halftime. The Vikings eventually took a 37-31 lead to the locker room.
Augustana maintained its lead through the early part of the second half, but three consecutive Vikings turnovers and Bluejay three-pointers on three straight possessions allowed the visitors to forge a 47-47 tie with 10:41 left. Rorer responded with a bucket and sophomore Kevin Schlitter (Maine South HS, Park Ridge, Ill.) followed with another to put the hosts up for good.
Rorer had a key basket with 5:07 to go when he hit a baseline jumper with the shot clock winding down to extend the Augustana lead to 58-50. Another big bucket came from Roth, who drained a trey from the right wing late in the shot clock to push the advantage to 66-57 at the 2:09 mark. Rorer converted three of four free throws and Voiles added one final basket before coach Grey Giovanine replaced his seniors to a loud ovation.
In addition to Voiles, Rorer and DeSimone (eight points and three assists), Chris Anderson (West Carroll HS, Mount Carroll, Ill.) and Griffin Dwyer (Hersey HS, Arlington Heights, Ill.) also played their final regular season games at Carver Center. Neither scored, but both had outstanding games on the defensive end and Anderson had a pair of key assists to Schlitter early in the game.
Schlitter joined Voiles and Rorer in double figures with 10 points. Roth added nine and freshman point guard Danielius Jurgutis (Downers Grove South HS, Darien, Ill.) six. The Vikings shot .452 from the field on 26 of 55, while Elmhurst finished 22 of 52 for a .423 percentage. Augustana outrebounded the Bluejays by a 38-29 margin and committed 13 turnovers to 16 for the visitors.
Tonight's win avenged an earlier loss to the Bluejays and allowed the Vikings to remain in a third-place tie with Illinois Wesleyan with two games to play. First up for Augustana is a trip to Kenosha, Wisconsin to face Carthage on Saturday, February 18 at 7:30 p.m.