February 11, 2012
2011-12 Season - Runge's 24 leads Vikings over Elmhurst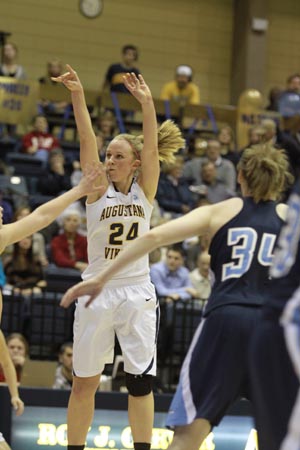 Natalie Runge poured in 24 points and grabbed six rebounds on "Senior Night" as Augustana defeated Elmhurst 68-57 in the Carver Center.
ROCK ISLAND, Ill. - Led by Natalie Runge (St. Dominick's HS, O'Fallon, Mo.), the Augustana seniors closed out their career in the Carver Center in fine style with an impressive 68-57 victory over Elmhurst in College Conference of Illinois & Wisconsin action on Saturday, February 11. Runge dropped in 24 points, pulled down six rebounds and picked up a steal as the Vikings pulled away in the closing minutes.
Augustana led by three (32-29) at halftime and built the lead to eight with 9:29 left after a basket by Runge made it 47-39. The Bluejays then went on a 10-2 run and trimmed the margin to 49-47 with 6:13 left after a basket by Meghan Merklein.
At that point, the Vikings got a basket from senior Abbi Staples (Sterling HS, Sterling, Ill.) at 5:13 to bump the margin to 51-47 and a pair of free throws by senior Whitney Miller (Clinton HS, Clinton, Iowa) at 3:30 to make it 53-47.
Staples came up with the biggest basket of the night with just 1:29 to play when she drilled a three pointer. Her bucket pushed the lead to 60-53 to give the Vikings some breathing room. With just :46 left Elmhurst's Meghan Merklein sank two free throws to cut the lead to 60-55.
Runge drained a pair of free throws at :45 to push the margin to 62-55 and sophomore Molly Etheridge (Normal Community HS, Bloomington, Ill.) was good on two charity tosses at :33 to give Augustana a nine point edge (64-55). Runge hit four more free throws in the final :14 to account for the final 11 point margin.
Runge was seven of 16 from the field and was perfect on all 10 of her free throws as she logged 28 minutes. Etheridge came off the bench to score 15 points and Staples, drawing the start on "Senior Night", added 12.
Augustana held a slim 35-34 margin in rebounding with Etheridge leading the way with eight. Senior Kristina Howard (Cherokee Trail HS, Aurora, Colo.) had six rebounds to tie Runge for second place in that department.
Merklein led Elmhurst in scoring with 17 points and Tess Godhart had 16.
Augustana was deadly at the free throw line, connecting on 22 of 24 from the charity line while Elmhurst only made 11 trips.
The Vikings are now 11-12 overall and 3-9 in the CCIW while Elmhurst falls to 16-7 and 7-5. Augustana will play at Carthage on Saturday, February 18 and then close out the season on Tuesday, February 21 at Wheaton.