February 11, 2012
2011-12 Season - Helen Myers double CCIW diving champion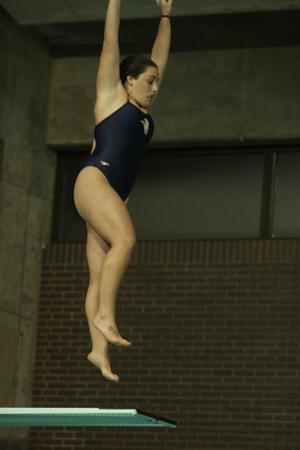 Augustana sophomore Helen Myers claimed CCIW diving championships at both one and three meters Saturday at Bloomington, Illinois. It was the second year in a row that Myers won conference championships in both events.
BLOOMINGTON, Ill. - Sophomore Helen Myers (Pecatonica HS, Rock City, Ill.) claimed both the one and three-meter diving championships Saturday at the College Conference of Illinois & Wisconsin meet on the campus of Illinois Wesleyan University. Myers double championship was her second in a row, as she claimed both events at last year's conference meet as well.
In the one-meter competition, Myers totaled 343.20 points, outdistancing second-place Danielle Owercko of Illinois Wesleyan, who finished with a total of 307.90. Katy McCortney and Elizabeth Johnson of the host school grabbed places three and four with 301.85 and 264.95 points, respectively. Rose Hulman's Nicole Richardson was fifth with 259.35.
At three meters, Myers edged out Richardson for the title by a 333.70 to 326.05 margin. Owercko and Illinois Wesleyan teammate Rae Brattin rounded out the scoring with 289.75 and 251.05 points, respectively.
The CCIW meet continues with the swimming competition hosted by Carthage College in Kenosha, Wisconsin on Thursday, February 16.