February 9, 2012
2011-12 Season - Quiros, Richardson & Burns CCIW champs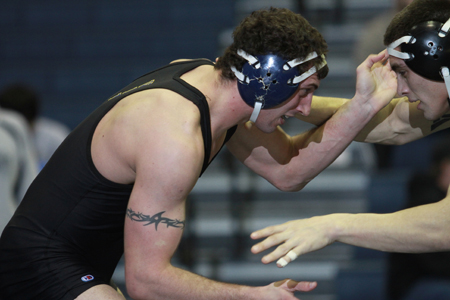 Sophomore Jordan Richardson claimed a conference championship at 174 pounds and shared Most Outstanding Wrestler honors with senior Alberto Quiros Thursday night at the CCIW Wrestling Championship. The host Vikings took second place in the team standings.
ROCK ISLAND, Ill. -Co-Most Outstanding Wrestlers Alberto Quiros (Morton East HS, Cicero, Ill.) and Jordan Richardson (Grandville HS, Wyoming, Mich.), along with junior Matt Burns (Naperville Central HS, Naperville, Ill.), won individual weight classes at the College Conference of Illinois & Wisconsin wrestling championship on Thursday, February 9 in the Carver Center. The Vikings recorded their highest finish in the CCIW wrestling championship since 2004 by placing second in the team standings.
Quiros, a senior, won at 149 pounds. Burns took the title at 165 and Richardson, a sophomore, grabbed the 174 pound weight class.
Elmhurst, led by Coach of the Year Steve Marianetti, won the team title for the second consecutive season with 101 points while Augustana was second with 77. Wheaton placed third with 41 and North Central was fourth with 38. North Park, Carthage, Millikin and Illinois Wesleyan did not field teams.
Quiros, the second seed at 149, upped his record to 34-8 this season with a pair of victories. He defeated Eric Oyster of North Central in the semi-finals by a score of 8-5 and then topped number one seed Ryan Earley of Elmhurst 6-5 in the final.
At 165, Burns, now 23-14 this season, knocked off top-seeded Mike Ryan of Elmhurst 7-2 in the semifinals before claiming the title with an impressive 16-5 win over Devin Milheim of North Central.
Richardson's championship at 174 came as the result of a semifinal pin of North Central's Andrew Hiller at the 6:00 mark and an 8-1 win over Elmhurst's Danny Balderas in the final. The two wins improve his record to 32-7 this season.
In addition to its three individual champions, Augustana had four runners-up. Juniors Steve Poffenberger (Allegan HS, Paw Paw, Mich.) at 133 and Greg Gogonas (Bowie HS, Austin, Texas) at 141 both garnered second-place finishes, as did freshmen Seth Whan (Sherrard HS, Viola, Ill.) at 184 and Jon Schraidt (Riverside Brookfield HS, Riverside, Ill.) at 285.
Poffenberger (29-11) got a 13-7 semifinal win over North Central's Brayan Gonzalez before dropping the title match 10-1 to top-seeded Dalton Bullard of Elmhurst. Whan (12-16) and Schraidt (26-9) both won by fall in the semifinals. Whan stopped Wheaton's Johann Sarna in 2:18 and Schraidt pinned Chris James of North Central in 1:42. For both, however, the tables were turned in the finals. Top-seeded Joe Rau of Elmhurst won by fall over Whan at 4:04 and Bluejay Brian Brooks pinned Schraidt in 40 seconds. Gogonas (18-16) advanced to the finals via a bye, then dropped an 8-0 decision to top-seeded Jake Denhof of Elmhurst.
197-pound junior Hunter Feraco (Gull Lake HS, Battle Creek, Mich.) claimed third place and freshman David Tessiatore (Downers Grove North HS, Downers Grove, Ill.) was a fourth-place finisher at 157 pounds.