2011 Season - Volleyball Clinic 2012
Clinics
2012 Volleyball Clinic Application Form
Director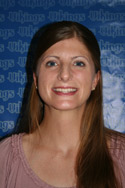 Jamie Walters finished her first year as the head volleyball coach at Augustana with a 12-20 overall record. The Vikings started slowly in 2010, losing eight of their first nine matches. Augustana went 4-3 in the College Conference of Illinois & Wisconsin and captured fourth place in the league standings. Walters, who served as the head coach at Aurora University for three seasons (2007-08-09), became the 10th head coach in the history of the program. She replaced Janelle Hester, who resigned in May of 2010 after recording a 34-33 record in two years.
Walters began her coaching career at Aurora in the fall of 2006 when she served as the assistant coach and helped the Spartans to a 19-14 overall record and a perfect 11-0 record in the Northern Athletics Conference. She assumed the head coaching position prior to 2007 and in her first year went 10-21 overall and 4-8 in conference play. In 2008 the Spartans were 7-23 and 6-6 before breaking through last year with a 17-15 overall mark and a 9-3 record in the league. During her time at Aurora she was instrumental in doubling the team's roster size and the Spartans recorded a team cumulative grade point average of 3.00. During her three years as the head coach, Walters compiled a record of 34-59 overall and 19-17 in the Northern Athletics Conference.
She has also coached at the club level and worked for nine years for the Side Out Volleyball Association. She assisted with the junior college national team in 2003 and in 2006 was an assistant coach at the World Scholar Athlete Games. A much decorated player, Walters was a two time junior college All-American at College of DuPage and helped the Chaparrals win back-to-back national titles. She was named MVP of the NJCAA national tournament as a sophomore and both of the DuPage teams she played on have been inducted into the NJCAA "Hall of Fame".
She has a Bachelor of Arts degree in business and economics from Benedictine and an MBA in leadership from Aurora.
Staff
Coach Walters and camp staff will instruct at each session. Each coach will be working with campers to learn skills ranging from basic to advanced.
Questions?
Contact Jamie Walters at jamiewalters@augustana.edu or (309) 794-7839.