February 8, 2012
2011-12 Season - Vikings host CCIW Tournament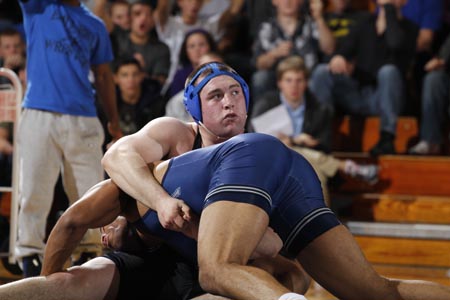 Freshman John Schraidt will head into the 2012 College Conference of Illinois & Wisconsin wrestling tournament with a 25-8 record at 285 pounds.
ROCK ISLAND, Ill. - Augustana will host the College Conference of Illinois & Wisconsin wrestling tournament on Thursday, February 8 in the Carver Center. Action begins for the four teams in the CCIW that sponsor wrestling (Augustana, Elmhurst, North Central & Wheaton) at 5:00 p.m.
Augustana has made great progress in the five years that Eric Juergens has been the head coach and the Vikings can take another step at the CCIW meet. This past dual meet season finished with Augustana sporting an 11-4 record and a national ranking as well. The 11 victories are the most for the Blue & Gold since Pat Marsh's 2003-04 team finished 15-5 en route to a conference title, the last one captured by the Vikings.
Over the past two seasons Augustana has gone 20-15 in dual meets after compiling a mark of 11-30 in Juergens' first three seasons. The Vikings also made an appearance in the national rankings this season, checking in at 21st in the pre-season and showing up in 30th in the sixth ranking of the season on January 19.
The Vikings have made steady improvement in the CCIW tournament during each of Juergens' previous four seasons and are looking to continue that trend. In his first season (2007-08) they were fourth with 34.5 points. In 2008-09 they moved to third with 48.5 points and in 2009-10 they were also third with 51.5 points. Last year Augustana was still third but this time scored 63.5 points and crowned a pair of individual champions. It was the first time the Vikings had an individual weight class winner since 2006, when they won three.
Juergens will field a lineup on Thursday that looks like this:
125 - Open
133 - Steve Poffenberger (Allegan HS, Paw Paw, Mich.)...28-10 this year and third in the CCIW a year ago at 149 after placing second at 133 in 2010.
141 - Greg Gogonas (Bowie HS, Austin, Texas)...18-15 this year...Finished third at 133 in 2011.
149 - Alberto Quiros (Morton East HS, Cicero, Ill.)...32-8 this year...Finished second at 141 in 2011...Third at 141 in 2009 and 2010...Has posted a career record of 87-51.
157 - David Tessiatore (Downers Grove North HS, Downers Grove, Ill.)...11-17 this year.
165 - Matt Burns (Naperville Central HS, Naperville, Ill.)...21-14 this year.
174 - Jordan Richardson (Grandville HS, Wyoming, Mich.)...30-7 this year.
184 - Seth Whan (Sherrard HS, Viola, Ill.)...11-15 this year.
197 - Hunter Feraco (Gull Lake HS, Battle Creek, Mich.)...21-12 this year...Third at 197 each of last two seasons.
285 - John Schraidt (Riverside-Brookfield HS, Riverside, Ill.) 25-8 this year.