February 7, 2012
2011-12 Season - Rebounding, free throws key win at North Park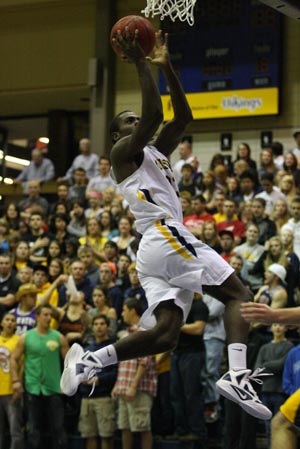 Senior Troy Rorer scored 16 points and pulled down five rebounds to help lead Augustana to a 59-57 CCIW win at North Park on Tuesday, February 7. The Vikings, ranked 20th in the latest NCAA Division III national poll, are now 17-5 overall and 7-4 in the CCIW.
CHICAGO, Ill. - In a game that went to the wire, decided advantages at the free throw line and in the rebounding department proved to be the difference as Augustana defeated North Park 59-57 on Tuesday, February 7 in Chicago, Illinois. The Vikings, attempting to become the only team in the College Conference of Illinois & Wisconsin to qualify for the league tournament in all seven years of its existence, picked up a crucial road victory en route moving their record to 17-5 overall and 7-4 in conference play.
Augustana, ranked 20th in the latest NCAA Division III national poll, shot 25 free throws, making 16, while North Park only made six trips to the charity stripe. The visitors outscored the home team 16-3 from the free throw line. Coupled with a 45-34 advantage in rebounding, the Vikings won despite shooting just .356 (21-59) from the floor, including .296 (8-27) in the second half.
Augustana sailed to three different double-digit leads in the game's first 11 minutes with the largest one coming at 9:22 of the first half after senior Troy Rorer (Bettendorf HS, Bettendorf, Iowa) sank a pair of free throws. North Park sliced the lead to five (25-20) with 3:57 left and trailed by six (32-26) and had the ball with less than five seconds to play and a chance to go into the locker room by four.
However, a North Park turnover and a foul committed when Augustana's Brian DeSimone (Buffalo Grove HS, Wheeling, Ill.) drove to the basket ended with DeSimone sinking a pair of free throws with no time on the clock. That allowed the Vikings to head into halftime with an eight point (34-26) lead.
In the second half the Augustana advantage never got to double digits and twice North Park cut the lead to three (41-38 at 13:54 and 57-54 at 2:59). With score at 57-54, senior Bryant Voiles (Byron HS, Byron, Ill.) scored on a put-back of a Brandon Kunz (Lake Zurich HS, Lake Zurich, Ill.) miss to give the Vikings a five point (59-54) cushion with 2:01 left.
North Park got a single free throw from Emanuel Crosby at 1:35 to make it 59-55 and then chopped the margin to two (59-57) and a basket by Mike Gabriel with just :43 left on the clock. That would be all the scoring for the night as the Vikings were able to hang on for the win.
Rorer led Augustana in scoring with 16 points, 14 of those in the first half while Voiles had nine points and a game-high 13 rebounds. Junior Kameron Norton (Downers Grove North HS, Downers Grove, Ill.) had nine points and seven rebounds while junior George Dexter (Bettendorf HS, Bettendorf, Iowa) had five points and six rebounds.
North Park, which fell to 5-17 and 1-10, got 15 points from Mark Holmes.
Augustana will host Elmhurst on Saturday, February 11 in the Carver Center at 7:30 p.m. It will be "Senior Night" for the Vikings.