February 7, 2012
2011-12 Season - Depth and balance will be strength for men's tennis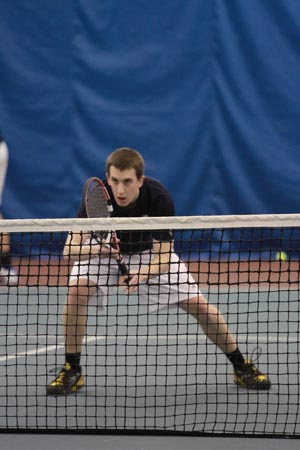 Senior Adam DeSimone will handle the number one singles position for the Vikings in 2012. He will also be at number one doubles. DeSimone heads into his final season with 105 combined victories in singles and doubles.
There is a change at the top in the Augustana men's tennis program heading into the 2011-12 season but there is no drop-off when it comes to expectations. Jon Miedema takes over for Adam Strand as the head coach after Strand left in June of 2011 to take a similar position at Luther, his alma mater.
"We want to put a team on the court that will compete day-in and day-out, match-in and match-out," said Miedema, who led the Augustana women's team to a 7-6 dual meet record and a fourth place finish in the College Conference of Illinois & Wisconsin championship in the fall. "Specifically we need to work on stringing good points together, especially in singles. That will be our focus during the early going."
Miedema inherits a successful program as the Vikings have recorded a mark of 82-43 over the past four years. Included in that stretch was a three year period, 2007-08, 2008-09 and 2009-10 where the Vikings broke the school record for victories each season. Last year Augustana was 19-10 and placed second in the CCIW.
With eight letter winners returning from a year ago, Miedema is excited about his team's prospects for 2011-12.
"We are very experienced and deep, which is a very good thing," said Miedema. "There is plenty of dept on this team and the depth helps quite a bit because our practices are of high quality."
Senior Adam DeSimone (Bettendorf HS, Bettendorf, Iowa) returns as the number one singles player after going 12-17 a year ago. He is a three time all-conference performer and has twice been named the Vikings Most Valuable Player. He enters his senior season with 105 combined (singles & doubles) career victories. That places him in a tie for sixth place on the school's all-time list.
Freshman Lawrence Palmer (Schiller International School - Spain, El Prat de Llobregat) has been a pleasant surprise during the early going and will assume the second singles position. Sophomore Andy Wall (Notre Dame Academy, De Pere, Wis.) should be at number three after going 16-13 while playing mostly at number four last year.
Junior Jack Cullen (Edgewood HS, Madison, Wis.) was 16-12 last year while playing at fifth singles and he will move up to number four this year. Sophomore Colin Arnold (Sterling HS, Sterling, Ill.) led the team in victories in 2010-11 with a 17-6 record while handling the number six singles slot. He will probably move to number five this year. Sophomore Kevin Bayles (Homewood-Flossmoor HS, Flossmoor, Ill.) posted a 6-4 mark in limited time a year ago and he could move into the number six position.
Junior Will Palmer (Schiller International School - Spain, Great Britain), freshman Marten Vonk (Rotterdam, Holland) and sophomore Grant Wick (Windsor HS, Fort Collins, Colo.) will also be in the mix for singles time. Palmer was 4-3 last year while Wick was 7-4.
Miedema is excited about his doubles combinations with DeSimone and Wall leading the way at number one. They were 13-15 last year while playing almost exclusively in the number one spot. The Palmer brothers will be at number two and the third spot belongs to Arnold and Cullen right now. They went 14-6 in the number three position in 2010-11.
"This is a learning process for both me and the players," said Miedema. "In the fall I spent most of the time with the women's team and didn't get to interact with the men's team as much as I would have liked. This is a very talented bunch and I am really looking forward to this season."
Once again the Vikings will tackle an aggressive schedule and Miedema knows that his team, which finished last year ranked 20th in the NCAA Division III's Central Region, will have to improve throughout the season.
"The doubles teams look very good right now," said Miedema. "It will be a case of getting consistency in singles and understanding how to hit smart shots on a regular ba."