$500,000 gift honors former Deere CEO
February  06, 2012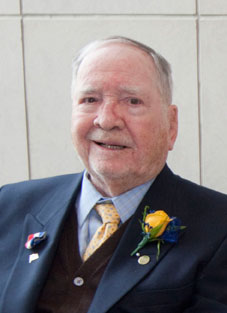 Robert A. Hanson
The John Deere Foundation has donated $500,000 to Augustana College in honor of former Deere CEO and 1948 Augustana alumnus Robert A. Hanson. The funds will support renovations to Old Main, the college's signature academic building, and two classrooms within Old Main will be named for Hanson.
"Since Augustana's earliest days in this community, the leadership of John Deere has been an inspiration to the college, its students and alumni," said President of the College Steven Bahls. "Throughout important chapters of the 20th century, Bob Hanson provided what our faculty might consider 'textbook' leadership for one of America's greatest corporations. So it is both inspiring and humbling that the John Deere Foundation would honor Bob with this remarkable gift of support."
The gift will support Old Main's interior renovations, scheduled to begin in May, and advances the strategic imperative to "enhance the college campus"—one of the eight imperatives of the college's strategic plan, Authentically Augustana: Affirm, Assure and Assess. This phase of renovations follows an exterior phase and includes modernizing classrooms with advanced technology, adding computer kiosks, updating faculty offices and seminar rooms, and creating a forum space to better facilitate learning.
"At the John Deere Foundation, we believe that education is a key to individual and community viability," said President of the John Deere Foundation Mara Sovey. "We partner with colleges and universities around the world to equip students to be tomorrow's leaders. We are delighted to make this grant in honor of Bob Hanson, a past leader of Deere & Company.
"We believe it is important for Augustana College to attract and educate young people to be significant contributors to the Quad-Cities community and beyond," said Sovey.
Hanson grew up in East Moline and graduated with an economics major from Augustana. He entered school in the fall of 1942, but took three years off to serve in the U.S. Marines during World War II. He completed his degree in 1948. Hanson began his career with John Deere in 1950, and was elected senior vice president of Deere's Overseas Division in 1973. Just five years later, Hanson became president of Deere & Company and then, in 1982, he was named chairman and chief executive officer, becoming the company's first chief executive who did not have a family connection to the founder John Deere. Hanson is credited with leading the company through one of the toughest eras in history for the U.S. agricultural economy in the 1980s while expanding and diversifying Deere & Company before retiring in 1990.
Hanson has contributed to Augustana throughout his life, serving on the Board of Trustees and as an honorary chair in the college's Authentically Augustana capital campaign. In 2010, Hanson, along with his wife Patricia, made the largest single donation in the college's history, providing $8 million to name the college's science building—the Robert A. and Patricia K. Hanson Hall of Science.
"Just as Mr. Hanson was equipped for leadership by his Augustana education, the John Deere Foundation's grant will help Augustana inspire new generations of students to assume their place as leaders in our world through this gift," said Lynn Jackson, vice president of advancement at Augustana.
"Grants such as this by the John Deere Foundation serve at the forefront of the development of leaders and visionaries, both in the Quad Cities and around the world," Jackson said. "This leadership gift to Augustana, Robert Hanson's alma mater, shows the importance the John Deere Foundation places on education and supports Augustana's mission to educate students for rewarding lives of leadership and service in our diverse and changing world."
Sam Schlouch
Senior Communication Director
(309) 794-7833
samschlouch@augustana.edu