February 4, 2012
2011-12 Season - Bottom of lineup lifts Vikings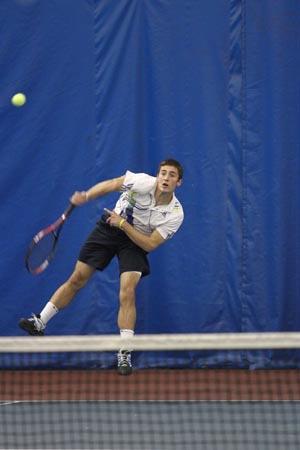 Sophomore Colin Arnold won at number five singles and number three doubles to help lead Augustana to a 6-3 victory over Monmouth on Saturday, February 4.
MOLINE, Ill. - The lower portion of the Augustana lineup came through once again and the result was a 6-3 victory over Monmouth in non-conference tennis action on Saturday, February 4 at the Quad City Tennis Club. The Vikings moved to 2-0 on the season thanks to victories at three through four singles along with wins at two of the three doubles slots.
Augustana took a 2-1 lead after doubles with wins at number one and three. Sophomore Andy Wall (Notre Dame Academy, DePere, Wis.) and Adam DeSimone (Bettendorf HS, Bettendorf, Iowa) combined to beat Chris Utterback and Parker Featherston at number one 8-1. In the third doubles position it was sophomore Colin Arnold (Sterling HS, Sterling, Ill.) and junior Jack Cullen (Edgewood HS, Madison, Wis.) defeating Andrew Shiakallis and Alex King, also by a score of 8-1.
When the action turned to singles, Monmouth scored victories at numbers one and two but the Vikings won three through six.
Wall defeated Featherston 6-2; 3-6; 10-6 at number three and Cullen beat Utterback at four by a count of 6-3; 7-5. Arnold got the measure of Tyler Lampe at number five 6-1; 6-0 and sophomore Kevin Bayles (Homewood-Flossmoor HS, Flossmoor, Ill.) was all over King at number six, winning 6-0; 6-0.
Augustana, which finished last season 19-10, will take its 2-0 record against regionally ranked Wisconsin-Whitewater on Friday, February 17 in Elkhorn, Wisconsin.
Augustana 6, Monmouth 3
Feb 04, 2012 at Moline, Illinois
Singles competition
1. Chris Franco (MC) def. DeSimone, Adam (AUGIE) 6-2, 6-4
2. David Johnson (MC) def. Palmer, Lawrence (AUGIE) 1-6, 6-4, 14-12
3. Wall, Andy (AUGIE) def. Parker Featherston (MC) 6-2, 3-6, 10-6
4. Cullen, Jack (AUGIE) def. Chris Utterback (MC) 6-3, 7-5
5. Arnold, Colin (AUGIE) def. Tyler Lampe (MC) 6-1, 6-0
6. Bayles, Kevin (AUGIE) def. Alex King (MC) 6-0, 6-0
Doubles competition
1. Wall, Andy/DeSimone, Adam (AUGIE) def. Chris Utterback/Parker Featherston (MC) 8-1
2. Tyler Lampe/Chris Franco (MC) def. Palmer, William/Palmer, Lawrence (AUGIE) 8-6
3. Arnold, Colin/Cullen, Jack (AUGIE) def. Andrew Shiakallis/Alex King (MC) 8-1