February 4, 2012
2011-12 Season - Defensive effort not enough in loss at NCC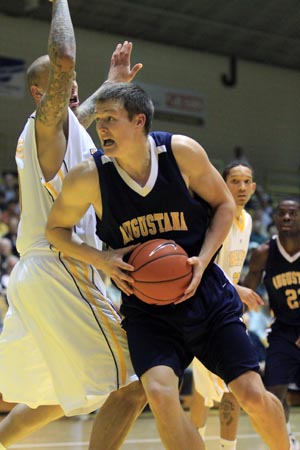 Junior Brandon Kunz scored 12 points and grabbed 12 rebounds but it was not enough as Augustana fell to North Central 43-41 on Saturday, February 4 in Naperville, Illinois.
NAPERVILLE, Ill. - A tremendous defensive effort and a huge advantage in the rebounding department went for naught on Saturday, February 4 in Naperville, Illinois as Augustana dropped a hard-fought 43-41 decision to North Central in College Conference of Illinois & Wisconsin action. The Vikings, winners of their last five games coming into the battle with the Cardinals, were looking to close the gap even more in the conference race.
Instead, 25 turnovers and a two for 13 performance from three point range contributed mightily to the two point loss. Augustana outrebounded the home team by an impressive 47-26 margin and held the normally efficient North Central team to just .292 (14-48) shooting from the floor.
The Vikings were also held without a point over the final 4:23 of play after a three point field goal by freshman Mark Roth (Washington HS, Metamora, Ill.) gave them a 41-38 lead. A single free throw by C.J. Goldthree at 2:37 and a three-point play by Goldthree at 2:07 gave North Central a 42-41 lead.
Aaron Tiknis, who led all scorers with 19 points, hit one free throw with 1:09 left to make it 43-41 in favor of the Cardinals. After Augustana missed a three point attempt with :58 left, North Central's Landon Gamble failed to convert on either of his two free throw attempts at :28.
The Vikings had two good looks at the basket in the final five seconds of play but neither shot would drop.
The game was not pretty offensively as neither team could score until Augustana senior Bryant Voiles (Byron HS, Byron, Ill.) finally hit a basket with more than five minutes gone in the game (14:27) to make it 2-0 in favor of the Vikings. Augustana led 22-17 at halftime but North Central opened the final 20 minutes with a 9-2 run that put the Cardinals on top 26-24. During the second half the game was tied seven times.
Junior Brandon Kunz (Lake Zurich HS, Lake Zurich, Ill.) led Augustana with 12 points and 12 rebounds and he was the lone Viking in double figures. The second leading scorer for Augustana was freshman Danielius Jurgutis (Downers Grove South HS, Darien, Ill.) with eight points.
North Central got 19 points and five rebounds from Tiknis and 10 points from Goldthree. Augustana's defensive effort smothered the Cardinals' two leading scorers, holding Derek Raridon and Landon Gamble to a combined 0-11 from the floor and three of six from the free throw line.
Augustana, which was ranked 15th in the latest NCAA Division III national poll, falls to 16-5 overall and 6-4 in the CCIW while North Central moves to 15-6 overall and 9-1 in league play.
The Vikings will travel to Chicago, Illinois on Tuesday, February 7 to face North Park.