February 4, 2012
2011-12 Season - Etheridge drops 19 in win at North Central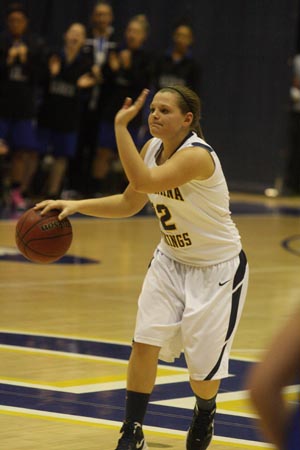 Sophomore Molly Etheridge scored a game-high 19 points, grabbed a team-leading nine rebounds, and had four assists in leading the Vikings to a 67-55 win at North Central on Saturday, February 4.
A trio of players in double figures sparked Augustana on Saturday, February 4 as the Vikings defeated North Central 67-55 in College Conference of Illinois & Wisconsin action at Merner Fieldhouse in Naperville, Illinois. The victory snapped a seven game losing streak for the Vikings it was much closer than the last time the two teams met when Augustana hit a basket at the buzzer to nail down the win.
Sophomore Molly Etheridge (Normal Community HS, Bloomington, Ill.), the hero of the win over the Cardinals on January 7 in Rock Island with a three pointer at the buzzer, came off the bench to score 19 points and lead the way to victory. She was five of 11 from the floor, three of six from three point range, and was perfect on all six of her free throws. She also grabbed a team leading nine rebounds and added four assists.
Etheridge scored 13 of her 19 points in the first half when the Vikings broke out to a 35-29 advantage at intermission. The game was tied at 4-4 early but Augustana scored 15 of the contest's next 19 points to go ahead 19-10 at the midway point (9:14).
In the early going of the second half the Vikings went on a 13-8 run to build a double digit lead (48-37) with 13:08 to play. North Central did manage to get the margin to seven points (53-46) with 7:20 left when Emily Collins scored on a lay-up. However, baskets by Whitney Miller (Clinton HS, Clinton, Iowa) and Natalie Runge (St. Dominic's HS, O'Fallon, Mo.) and a free throw by Elizabeth Phillips (Grayslake North HS, Lake Villa, Ill.) pushed the margin to 12 points (58-46) with 5:21 to play.
It never got below double digits after that as the Vikings moved their overall record to 10-11 and their CCIW mark to 2-8. North Central falls to 6-15 and 0-10.
Besides Etheridge's 19 points, junior Gianna Pecora (Downers Grove South HS, Darien, Ill.), playing a game-high 37 minutes, and Runge were in double digits with 12 points each. The held a narrow 42-41 edge in rebounding with Etheridge's nine leading the way. Phillips hauled in seven and Pecora pulled down six.
Helen Muleya led North Central with 15 points while Collins had 10 points and led all rebounders with 14.
The Augustana defense was superb, holding the Cardinals to just .290 shooting from the field on 18-62 for the game, including just five of 21 from three point range. North Central was hampered as well by a 14-25 (.538) performance from the free throw line.