February 4, 2012
2011-12 Season - Ferguson wins 50 free at Monmouth Quad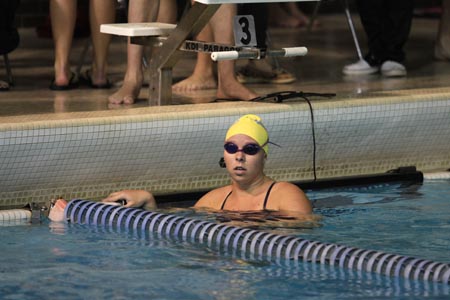 Sophomore Hillary Ferguson recorded Augustana's lone victory in the Monmouth Quadrangular on Saturday, February 4. She won the 50 freestyle in :26.00.
Sophomore Hillary Ferguson (Waubonsie Valley HS, Naperville, Ill.) picked up a victory in the 50 freestyle to lead the way for the Augustana women's swimming & diving team on Saturday, February 4 at the Monmouth Quadrangular. Scoring was done as three separate dual meets although the swims were contested with all four schools involved at the same time.
The Vikings fell to Western Illinois 131-120, dropped the meet to Valparaiso 155-102 and lost to Monmouth 138-120. Both Western Illinois and Valparaiso are NCAA Division I institutions.
Ferguson was the lone winner for head coach Scott Johannsen's squad. She touched the wall first in the 50 freestyle with a time of :26.00. She was also third in the 100 freestyle in :58.15 and swam the anchor leg on the 400 freestyle relay that took fourth in 3:59.48. Joining her on that team were junior Molly Clennon (Benet Academy, Naperville, Ill.), junior Emma Regnier (Grayslake North HS, Lake Villa, Ill.) and junior Alexandra Piper (Coal City HS, Coal City, Ill.).
Clennon took third in the 200 freestyle (2:05.62) and fourth in the 500 freestyle (5:47.99). Regnier was extremely busy as she placed third in the 100 butterfly (1:04.42) and fourth in both the 100 breaststroke (1:13.70) and 200 individual medley (2:26.18). Piper was fourth in the 50 freestyle with a time of :27.17.
Junior Emily Timmons (West Aurora HS, North Aurora, Ill.) took third in the 1000 freestyle in 11:47.31 while sophomore Erin Doty (Oswego HS, Oswego, Ill.) was fourth in the 1000 freestyle (12:03.17) and fifth in the 500 freestyle (5:48.71). Freshman Alexis Thompson (Crystal Lake South HS, Lake-in-the-Hills, Ill.) was fifth in the 200 butterfly with a time of 2:55.98. Sophomore Danna Jensen (Dundee Crown HS, Algonquin, Ill.) placed fifth in the 100 backstroke in 1:14.09.
The 400 medley relay team of freshman Beth Cole (Muscatine HS, Muscatine, Iowa), freshman Mackenzie Corrie (Midland HS, Charleston, Ill.), Thompson and Doty finished fifth in 4:58.74.
Augustana's next action will be at the College Conference of Illinois & Wisconsin championship from February 16 through the 18th in Kenosha, Wisconsin.