February 3, 2012
2012 Season - Two champs & school record at UWW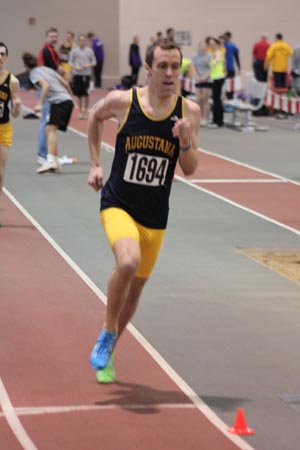 Junior Justin Smith won the mile at the in 4:18.43 at the Converse Invitational in Whitewater, Wisconsin on Friday, February 3. Augustana, ranked second in NCAA Division III, placed fifth in the meet with 75 points.
A field that included the top three ranked teams in NCAA Division III made for some great competition at the Converse Invitational on the campus of the University of Wisconsin-Whitewater on Friday, February 3. Augustana, second in the latest US Track & Field/Cross Country Coaches Association poll, placed fifth with 75 points and had two event winners.
Wisconsin-LaCrosse, which came into the meet not ranked in the top 25, won with 168 points. Host Wisconsin-Whitewater, ranked third, placed second with 129 points while top ranked North Central was third with 120.5. Unranked Wisconsin-Oshkosh was fourth with 91.5. Chicago (23) and Loras (18) rounded out the field.
Veteran head coach Paul Olsen's team picked up victories in the mile and the 800 relay and also set a new school record in the 60 meter dash.
Junior Justin Smith (Fenton HS, Bensenville, Ill.) won the mile with a time of 4:18.43 and took eighth in the 800 in 1:59.72. The 800 meter relay team of freshman Keith Cline (Byron HS, Byron, Ill.), sophomore Jay Graffagna (Geneva HS, LaFox, Ill.), freshman Brandon Jasper (DeWitt Central HS, DeWitt, Iowa) and junior Floyd Mays (Mooseheart HS, Justice, Ill.) recorded a winning time of 1:31.61, just missing the school record. Cline was also eighth in the 200 in :22.74.
There was a school record set in the meet and it was done by junior sprinter Alex Rindone (Marmion Academy, Geneva, Ill.) in the 60. He finished fourth in :07.05. For good measure, he added a second place finish in the 200 with a time of :22.21.
Sophomore Tyler Busch (Winnebago HS, Winnebago, Ill.) finished second in the 3000 with a time of 8:46.89 and the 1600 relay team of freshman David Voland (Batavia HS, Batavia, Ill.), sophomore Steve Zahrobsky (Downers Grove South HS, Woodridge, Ill.), senior Greg Davis (Carlinville HS, Carlinville, Ill.) and Rindone took second in 3:21.05. Earlier in the meet Voland took eighth in the 60 hurdles in :08.80.
The distance medley relay team of freshman Alex Odenkirk (Ironwood Ridge HS, Tucson, Arizona), sophomore Jared Spivey (Annawan HS, Annawan, Ill.), freshman Matt Simo (York HS, Elmhurst, Ill.) and sophomore Andrew Allabastro (Lyons Township HS, LaGrange, Ill.) placed third in 10:55.21. Freshman Josh Prosser (Eureka HS, Goodfield, Ill.) was third in the high jump with a clearance of 6' 3 ¼".
Senior Brian Benning (Winnebago HS, Winnebago, Ill.) was fourth in the 35 pound weight toss with a heave of 58' 7 ¼" and senior Phil Christensen (Kaneland HS, Maple Park, Ill.) took eighth with a mark of 54' 4 ¾".
Junior Colton Van Kirk (Rochelle HS, Rochelle, Ill.) and freshman Jeff Padesky (Moline HS, Moline, Ill.) both cleared 14' 3 ½" in the pole vault, placing sixth and seventh respectively. Junior Brian Pollastrini (York HS, Elmhurst, Ill.) was seventh in the 5000 with a time of 14:46.97.
The Vikings will host the Augustana Open on Saturday, February 11 at the PepsiCo Center, beginning at 11:00 a.m.