February 1, 2012
2011-12 Season - Vikings fall to Illinois Wesleyan 76-64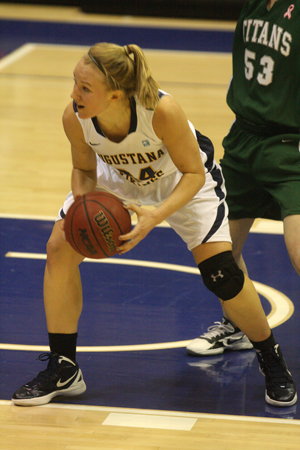 Augustana senior Natalie Runge led the Vikings with 17 points and five rebounds Wednesday, but the Vikings fell to league-leading Illinois Wesleyan 76-64 at carver Center.
ROCK ISLAND, Ill. - Augustana gave Illinois Wesleyan a battle Wednesday night at Carver Center, but eventually fell 76-64 at the hands of the CCIW-leading Titans. Natalie Runge (St. Dominic HS, O'Fallon, Mo.) led three Vikings in double figures with a game-high 17 points as Augustana dropped to 9-11 overall and 1-8 in the conference. Illinois Wesleyan improved to 15-5 on the year and 8-1 in league play.
Four different Titans scored as the visitors took a 12-5 lead five minutes into the contest. However, five points from Amy Hicks (Rockford Christian HS, Rockford, Ill.) sparked a 7-0 run as the Vikings drew even at 12.
From there, the game settled into a nip and tuck affair. The Vikings took their first lead of the night, 15-14, on a bucket by Runge with 12:20 left in the half. A pair of Allie Scaggs (Porta HS, Petersburg, Ill.) free throws at the 9:34 mark gave the hosts their biggest lead at 21-17. Illinois Wesleyan then went on a 17-6 to match its largest lead of the half at 34-27 with 4:43 left.
The Vikings closed the half strong. Scaggs converted an old-fashioned three-point play and Jessica Baids (West Chicago HS, Carol Stream, Ill.) took a feed from Whitney Miller (Clinton HS, Clinton, Iowa) and hit a layup just before the halftime buzzer to make it 36-34 Titans at intermission. Illinois Wesleyan star Olivia Lett went to the break with 14 points, but three fouls.
Kristina Howard (Cherokee Trail HS, Aurora, Colo.) opened the second stanza with a bucket to draw Augustana even at 36, but the visitors scored the next six points and the Vikings were never closer than four points the rest of the way.
Lett picked up her fourth foul with 16:00 left in the game, but Augustana couldn't capitalize. The Titan advantage bounced between five and nine points until it finally reached double digits on a pair of Britt Hasselbring free throws with 9:22 to play. The lead eventually reached 16, but the Vikings fought back, cutting the deficit under double digits before IWU finished off the 12-point win.
Hicks, who had a perfect shooting night, and Gianna Pecora (Downers Grove South HS, Darien, Ill.) joined Runge in double figures with 11 points each. Runge also had a team-high five rebounds, while Pecora led the Vikings with four assists. Lett, who was held scoreless in the second half before fouling out, and Hasselbring led the Titans in scoring with 14 each.
On Saturday, February 4, Augustana travels to Naperville, Illinois to take on North Central. Game time is scheduled for 5:30 p.m.