February 1, 2012
2012 Season - Women ranked 10th in NCAA Poll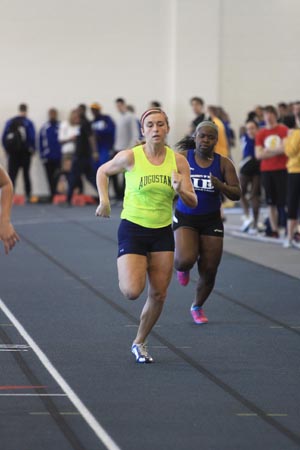 Senior Morgan Gale has been the top sprinter for the Vikings this season, recording the team's best times in the 55 and 60 meter dashes. She has helped Augustana climb into the 10th spot in the NCAA Division III national dual meet power ranking.
After a great weekend of competition, the Augustana women's track and field team has jumped right into the top 10 of the NCAA Division III women's track and field poll. The Vikings currently have 116.55 points, putting them in tenth place in the second poll of the season.
This poll, conducted by the U.S. Track & Field and Cross Country Coaches Association, quantifies the depth of each team. The team's total score is the sum of all points earned in each event. Two individual athletes are scored per event, as well as one relay team. The points are based on the best marks of an event in the current season, with the faster times and farther distances worth more.
This week Wisconsin-Oshkosh jumped to the top spot with 138.65 points. Massachusetts Institute of Technology is second with 136.03 points, followed by Ithaca (131.84) and Southern Maine (127.75). College Conference of Illinois rival North Central is fifth with 127.02 points; Washington is sixth with 121.02 points, while Nebraska Wesleyan is seventh with 118.75. Another CCIW rival, Illinois Wesleyan is eighth with 118.31 points, with Tufts just ahead of Augustana with 117.26 points.
So far this season the Vikings have competed in a total of three meets, including last weekend when head coach Fred Whiteside's team competed at the Wartburg Select meet in Waverly, Iowa. The Vikings were second in the three team event, including four event winners. On January 14th, Augustana competed in Dubuque, Iowa at the Sol Butler Classic, finishing second of nine teams. The Vikings then competed at the Midwest Invitational on January 21st at Monmouth College, finishing with five even winners. No team scores were kept at that meet.
The Vikings will travel to Jacksonville, Illinois to compete in the Illinois College Invite on Saturday, February 4th.
2012 NCAA DIVISION III INDOOR DUAL MEET POWER RANKINGS
Sponsored by the USTFCCA
As of 01/31/2012
POLL #2
| | | | |
| --- | --- | --- | --- |
| RANK | SCHOOL | REGION | POINTS |
| 1. | University of Wisconsin, Oshkosh | Midwest | 138.65 |
| 2. | Massachusetts Institute of Technology | New England | 136.03 |
| 3. | Ithaca | Atlantic | 131.84 |
| 4. | Southern Maine | New England | 127.75 |
| 5. | North Central | Midwest | 127.02 |
| 6. | Washington University | Midwest | 121.02 |
| 7. | Nebraska Wesleyan | Central | 118.75 |
| 8. | Illinois Wesleyan | Midwest | 118.31 |
| 9. | Tufts | New England | 117.26 |
| 10. | AUGUSTANA | Midwest | 116.55 |