January 31, 2012
2011-12 Season - Vikings fight off Illinois Wesleyan in OT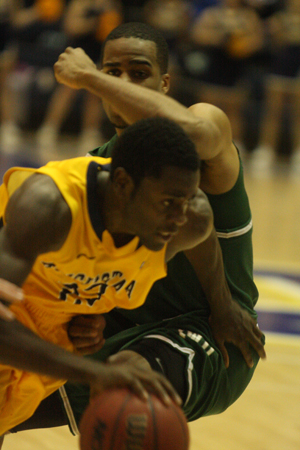 Augustana's Troy Rorer drives on Illinois Wesleyan's Eric Dortch. Rorer led the Vikings with 16 points and his steal and layup in overtime provided the margin of victory in an 80-78 win over the Titans.
ROCK ISLAND, Ill.-Troy Rorer (Bettendorf HS, Bettendorf, Iowa) came up with a steal and layup with a minute left in overtime and 15th-ranked Augustana held on for an 80-78 win over number 24 Illinois Wesleyan Tuesday night at Carver Center. With the win, the Vikings improve to 16-4 overall and pull even with the Titans in the league standings at 6-3. Illinois Wesleyan falls to 15-5 overall this season.
Augustana built up leads of 16 on two occasions in the contest. The Vikings took a 35-19 lead on a Brian DeSimone (Buffalo Grove HS, Wheeling, Ill.) three-pointer with 3:43 left in the first half before Illinois Wesleyan eventually whittled the deficit to three at 47-44 with 13:24 left in the game. A conventional three-point play and three-point field goal by freshman Danielius Jurgutis (Downers Grove South HS, Darien, Ill.) and a pair of treys from Rorer sparked a 22-9 Viking run that pushed the advantage back to 69-53. The Titans' Jordan Zimmer and Augustana's Brandon Kunz (Lake Zurich HS, Lake Zurich, Ill.) then traded baskets and the Vikings led 71-55 with 5:59 to play.
Over the next four and a half minutes, however, the visitors scored 17 consecutive points to take a 72-71 lead, their first since leading 7-6 three minutes into the contest. Titan point guard Eliud Gonzalez scored seven points in the run.
Bryant Voiles (Byron HS, Byron, Ill.) finally ended the Illinois Wesleyan spurt with a three-pointer at the 1:34 mark that gave the hosts a 74-72 advantage and with 51 seconds left. Titan Kevin Reed answered with a layup that drew IWU even at 74.
The Vikings got off three shots on their final possession, but couldn't convert and the game went to overtime.
After Reed put the Titans up 76-74, DeSimone answered with his third three-pointer of the night to give the hosts a lead that lasted until a Stephen Rudnicki jumper rolled in with 2:24 left. Voiles hit the second of two free throws with 2:10 left to tie it at 78 and Rorer made it 80-78 Vikings when he intercepted a Gonzalez pass and scored a layup at the other end.
Griffin Dwyer (Hersey HS, Arlington Heights, Ill.) rebounded a missed Zimmer jumper with 45 seconds left. Unable to run out the entire game clock, the Vikings were forced to take a rushed three-pointer with the shot clock winding down. Gonzalez collected Dwyer's miss and drove the length of the court, but his jumper in the lane was off and the final buzzer sounded with both teams scrambling for the loose ball.
Rorer led the Vikings with 16 points in addition to five rebounds, three assists and three steals. Voiles added 15 points and six boards and Jurgutis joined them in double figures with 10. DeSimone scored nine and Kunz added seven points and a team-high seven rebounds. Zimmer with 20 and Gonzalez with 14, led five Titans in double figures.
Now in a third-place tie with Illinois Wesleyan in the CCIW standings, another huge game awaits the Vikings on Saturday, February 4, when they travel to Naperville to take on league-leading North Central (14-6 overall and 8-1 in the conference). That contest is scheduled for 7:30 p.m.