Dr. Donald Davis, pioneer in speech therapy, dies
January  30, 2012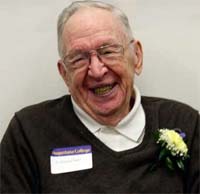 Dr. Donald C. Davis
Retired professor Dr. Donald C. Davis, 89, who was instrumental in building Augustana's Center for Communicative Disorders, died Saturday.
Dr. Davis was a graduate of Augustana College in 1947, one of the first students to major in what was then known as speech rehabilitation. He then attended Northwestern University, where he received a master's and doctorate in speech pathology. He was a professor of speech and language pathology at Augustana from 1950 to 1988. He also was the director of the Easter Seal Foundation of Rock Island County for 28 years and the TV host of "This is Augustana College" on WHBF for 35 years.
In May 2010, a faculty office in the Communication Sciences and Disorders department was dedicated in his name. (See story)
Speaking at the dedication, Augustana President Steve Bahls said, "The untold number of lives touched, and enriched, by this program is astonishing. If you were to add to that the work done by the program's graduates — who go on to serve around the nation — the impact of Augustana's Center for Communicative Disorders becomes awe-inspiring."
Services for Dr. Davis will be 10 a.m. on Wednesday, Feb. 1, 2012, at Good Shepherd Presbyterian Church, Rock Island. Visitation will be from 4-7 p.m. Tuesday at Wheelan-Pressly Funeral Home, Rock Island. Burial will be in Rock Island Memorial Park Cemetery. Memorials may be made to the Donald C. Davis Speech and Language Scholarship at Augustana College, Rock Island. (See complete obituary)
Sam Schlouch
Senior Communication Director
(309) 794-7833
samschlouch@augustana.edu