January 28, 2012
2012 Season - Vikings win four events at Wartburg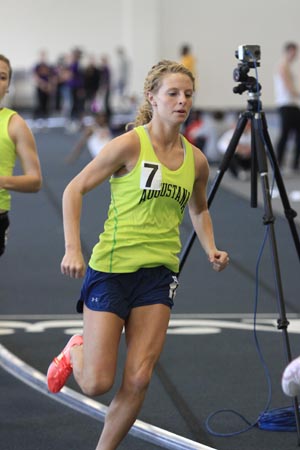 Sophomore Katie Benge ran the third fastest 600 meter time in school history when she clocked 1:40.20 at the Wartburg Lutheran Triangular on Saturday, January 28. She placed third in the event as Augustana placed second in the meet with 178 points.
WAVERLY, Iowa - Led by the school record setting performance of sophomore Johanna Schnitzler (Downers Grove South HS, Woodridge, Ill.), the Augustana women's track & field team finished second in the Wartburg Lutheran Triangular on Saturday, January 28 in Waverly, Iowa. Host Wartburg won the meet with 341 points while the Vikings of veteran head coach Fred Whiteside scored 178 points in second and Grand View was third with 136.
Augustana won a total of four events in the meet but the highlight was Schnitzler eclipsing her own school record. The old mark was 2,695 points set a year ago at the College Conference of Illinois & Wisconsin championship meet in Bloomington, Illinois. On Friday, January 27, the pentathlon was held and Schnitzler scored 2,734 points while placing third in the event.
Schnitzler started her day by running :10.10 in the 60 hurdles and garnering 693 points. She jumped 4' 8 ¾" in the high jump for 555 points, tying for first in the event. She tossed the shot 25' 8 ¾" for 389 points and long jumped 14' 6" for 408 points. She finished by winning the 800 with a time of 2:30.34.
She stayed busy the next day by placing second in the high jump during the regular portion of the meet with a clearance of 4' 7 ¾".
Junior Sarahbeth Jones (Warren Township HS, Wadsworth, Ill.) won the 800 with a time of 2:23.04. Junior Taylor Tjardes (Gibson City-Melvin-Sibley HS, Gibson City, Ill.) cleared 9' 0 ¼" to take the pole vault and freshman Astin Moravek (Riverside-Brookfield HS, Riverside, Ill.) won the triple jump with a leap of 33' 10 ¾". Moravek also placed third in the long jump with a mark of 16' 0 ¾".
The distance medley team of freshman Jessica Bacon (Rock Island HS, Rock Island, Ill.), senior Rachael Latham (Burlington Central HS, Elgin, Ill.), freshman Lorraine Stamberger (LaMoille HS, LaMoille, Ill.) and freshman Becca Sund (Palatine HS, Palatine, Ill.) accounted for the other victory for the Vikings with a time of 12:37.71.
Sophomore Katie Benge (Pleasant Valley HS, Bettendorf, Iowa) placed third in the 600 with a time of 1:40.20, the third fastest in Augustana history. Sophomore Liana Beauchamp (Genoa-Kingston HS, Kingston, Ill.) was third in the weight throw with a toss of 49' 10" and that is the third best mark ever for a Viking.
Senior Morgan Gale (Oregon HS, Oregon, Ill.) placed second in the pole vault by clearing 8' 6 ¼". Junior Samantha Bazely (Alleman Catholic HS, Coal Valley, Ill.) finished second (32' 3 ½") and freshman Laura Polizzi (Crystal Lake South HS, Crystal Lake, Ill.) was third (31' 8 ¾") in the triple jump.
The 800 meter relay team of Gale, senior Catherine Foreman (St. Joseph-Ogden HS, St. Joseph, Ill.), Polizzi and junior Kate Dinkel (Maharishi HS, Fairfield, Iowa) finished third with a time of 1:54.48.
Augustana will compete in the Illinois College Invitational on Saturday, February 4 at 11:00 a.m.