January 28, 2012
2011-12 Season - Vikings drop close one to Big Blue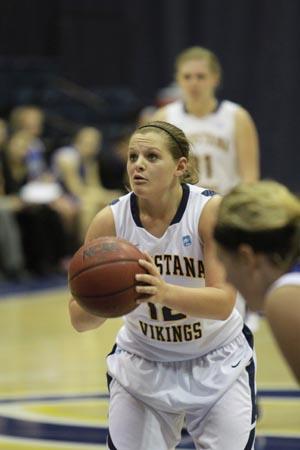 Molly Etheridge came off the bench and scored 14 points to lead Augustana in scoring during a 63-60 loss at home to Millikin.
ROCK ISLAND, Ill. - After forging a 33-22 lead at halftime, Augustana dropped a 63-60 College Conference of Illinois & Wisconsin decision to Millikin on Saturday, January 28 in the Carver Center. The Vikings had the game tied in the final minute before the Big Blue scored the contest's final three point to secure the victory.
Augustana was sharp in the early going and led by as many as 12 (30-18) with just 1:11 remaining in the first half. Millikin whittled the lead to eight points (30-22) with :27 left but at the buzzer senior Brianna Skeens (Vernon Hills HS, Libertyville, Ill.) converted on a three point play to make it 33-22 at intermission.
The lead floated between seven and nine points and with 15:39 left the Vikings were ahead by nine (39-30) after a basket by Molly Etheridge (Normal HS, Bloomington, Ill.). Millikin then went on a 19-4 run and with 8:33 left the Big Blue led 49-43. With 5:55 to go, the Millikin lead was nine (55-46) but Augustana went on a 17-11 run and tied the game at 60-60 thanks to a three point field goal by junior Gianna Pecora (Downers Grove South HS, Darien, Ill.) with 1:01 to play.
Crystal Zeigler hit a basket with :34 left to put Millikin ahead 62-60 and Augustana turned the ball over in the final seconds and the Vikings were forced to foul with :01 on the clock.
Etheridge led Augustana with 14 points while Pecora had 12 and senior Natalie Runge (St. Dominic HS, O'Fallon, Ill.) dropped in 11.
The Vikings held a 37-27 edge in rebounding with Runge and Chaney Tambling (Dwight HS, Dwight, Ill.) each grabbing five.
Zeigler led Millikin in scoring with 24 points.
Millikin is now 12-7 overall and 4-4 in the CCIW while Augustana falls to 9-10 and 1-7.