January 28, 2012
2011-12 Season - Augustana defeats Millikin 98-28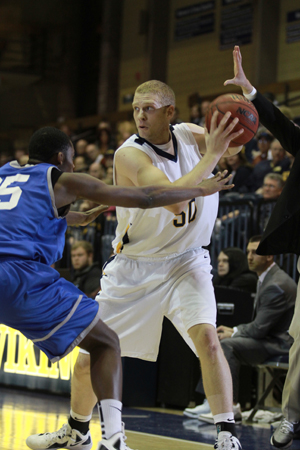 Junior Kevin Waibel played a team-high 21 minutes Saturday night, finishing with four points, three rebounds and three assists in Augustana's 98-28 win over Millikin.
ROCK ISLAND, Ill. - All 14 Vikings who saw action got in the scoring column Saturday night as Augustana set school and conference records for largest winning margin with a 98-28 win over Millikin at Carver Center. Brandon Kunz (Lake Zurich HS, Lake Zurich, Ill.) led the Vikings with 13 points and Mark Roth (Washington HS, Metamora, Ill.) added a dozen.
A free throw line jumper from Brian DeSimone (Buffalo Grove HS, Wheeling, Ill.) and a conventional three-point play by Troy Rorer (Bettendorf HS, Bettendorf, Iowa) staked the hosts to an early 5-0 lead. Millikin's Nikko Robertson answered with a bucket to cut it to 5-2 two minutes into the contest. However, over the next 15 minutes Augustana went on a 42-2 run and led 47-4 at the three-minute mark of the first half. A Rodney Clark three-pointer and a pair of Brady Knapp jumpers got the Big Blue into double digits, but the Vikings took a 53-11 advantage into the locker room.
Roth scored all 12 of his points in the opening 20 minutes, hitting four of five from three-point range. Kunz had 10 of his 13 in the first half as well, without missing a shot. In all, 13 Vikings saw floor time in the first stanza.
The lead reached 50 (64-14) with 15:38 to play and continued to grow even after coach Grey Giovanine had emptied his bench. Junior Kevin Waibel (Morton HS, Morton, Ill.), sophomores Sam Calcagno (Mayo HS, Rochester, Minn.) and Austin Lusson (Lyons Township HS, LaGrange, Ill.) and freshmen Alex Dziagwa (Riverside-Brookfield HS, Brookfield, Ill.) and Brandon Thompson (Galesburg HS, Galesburg, Ill.) comprised the Viking lineup for much of the final 10 minutes. Waibel had four points and three rebounds in a team-high 21 minutes. Lusson hit a pair of three-pointers and finished with eight points. Dziagwa had seven points and five rebounds in 11 minutes and Calcagno scored the game's final basket on a circus shot in the lane.
Augustana shot .557 (34-61) from the field including 10 of 20 from beyond the arc. The Vikings also converted 20 of 26 (.769) free throws. Millikin finished 11 of 52 (.212) from the field and two of 19 (.105) from long range. Augustana had the edge on the boards by a 51-21 count.
Seniors Bryant Voiles (Byron HS, Byron, Ill.), Rorer and Chris Anderson (West Carroll HS, Mt. Carroll, Ill.) each finished with nine points. Voiles hauled in a game-high eight rebounds in just 14 minutes of playing time, while Anderson grabbed seven caroms. Kameron Norton (Downers Grove North HS, Downers Grove, Ill.), back after missing three games with an injury, had seven boards as well.
The 70-point margin of victory broke the previous school record of 64, set in a 142-78 win over Mt. St. Clare on November 19, 1990. It also shattered the previous CCIW record of 56, set in 1980 when North Park defeated Carthage 108-52.
A huge game looms for Augustana Tuesday, January 31, when Illinois Wesleyan visits Carver Center for a 7:30 p.m. contest. The 21st-ranked Titans are 15-4 overall and 6-2 in the CCIW, one game ahead of the 20th-ranked Vikings, who improved to 15-4 overall and 5-3 in the league with tonight's win.