January 28, 2012
2011-12 Season - 4 Vikings place at Wheaton Invitational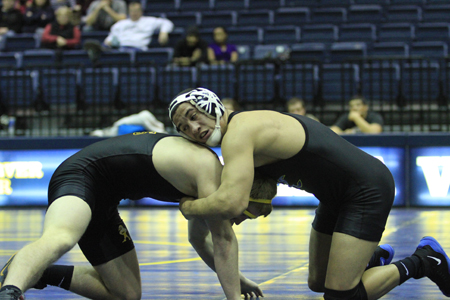 Augustana senior Alberto Quiros garnered a second-place finish at 149 pounds at this weekend's Pete Willson Invitational at Wheaton College in Wheaton, Illinois.
WHEATON, Ill. - Augustana 149-pounder Alberto Quiros (J. Sterling Morton HS, Berwyn, Ill.) led a contingent of four Vikings who placed at this weekend's Pete Willson Invitational at Wheaton College. Quiros brought home a second-place finish and Augustana tied for 12th in the 31-team team field.
In addition to Quiros' performance, the Vikings and coach Eric Juergens got a third-place finish from Steve Poffenberger (Allegan HS, Paw Paw, Mich.) at 133 pounds. Greg Gogonas (Bowie HS, Austin, Texas) was sixth in the 141-pound weight class and Jordan Richardson (Grandville HS, Wyoming, Mich.) was eighth at 174 pounds.
Quiros (32-8 on the year), who dropped a tough 1-0 decision to UW-Whitewater's Cade Sarbacker in the 149-pound finals, received a first-round bye before advancing with a 7-4 win over UW-Parkside's Mike Migawa. He bested Eric Oyster of North Central 5-3 in the quarterfinals and reached the title match with a 10-7 semifinal win over Tye Boyer of Elizabethtown.
Poffenberger (28-10) claimed third place at 133 pounds with a pin of Messiah's Kaleb Loht at 3:17. He began a busy weekend with a 12-11 first-round win over UW-Whitewater's Trevor Pruett. He then dispatched Wheaton's Caleb Cardenas 13-5 and Lakeland's Eduardo Orihuela by technical fall (20-5) to reach the semifinals. After losing by fall to top-ranked Timothy Wunnicke-who was named the meet's Most Outstanding Wrestler-Poffenberger rebounded with a 10-9 decision over North Central's Brian Gonzalez to reach the third-place match.
Gogonas (18-15) got a tough draw at 141, getting top-seeded Andrew Zobac of North Central. Zobac scored a 26-9 technical fall to send Gogonas to wrestlebacks, where he bounced back with a 7-2 win over Tyler Henken of Wisconsin-Platteville. He followed that with decisions over Elizabethtown's Colin Sheridan (3-1), Milwaukee School of Engineering's Jacob Narveson (11-5) and Concordia's Greg Sanders (8-6) before falling to Mount Union's Josh Malave by technical fall (20-5) and then 6-1 to Anthony Medina of Western New England in the fifth-place match.
At 174 pounds, Richardson (30-7) opened with a pin of UW-Platteville's Quinn Sedlak at 2:23. He then beat Heidelberg's Jeremy Stepp 7-5 before dropping a 10-2 decision to top-seeded Luke Rynish of UW-Parkside. He defeated Manchester's Ryan Monce 11-2 before falling 9-4 to Matt Cross of Messiah and forfeiting the seventh-place match to Trine's Jason Alber.
Augustana 165-pounder Matt Burns (Naperville Central HS, Naperville, Ill.) recorded a big win. After receiving a first-round bye, Burns (21-14) defeated top-seeded James Myers of Olivet 12-7 before dropping his next two matches.
Wisconsin Parkside won the team title with 117.5 points followed by Wisconsin-Whitewater (102.0) and Mount Union (92.5). Indianapolis, with 91.5 points and Olivet, with 88.0, rounded out the top five. Augustana and Elizabethtown each scored 61 points to finish in a tie for 12th.
Juergens' grapplers now gear up for the CCIW tournament, which will take place at Augustana's Carver Center on Friday, February 9, beginning at 5:00 p.m.