January 25, 2012
2011-12 Season - Loss to Wheaton drops Vikings to .500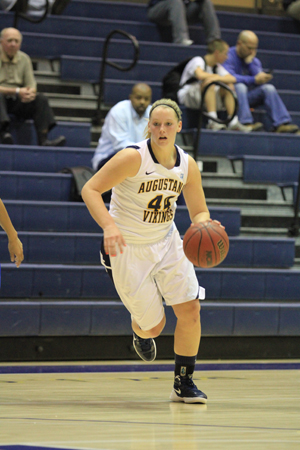 Sophomore Chaney Tambling had a team-high 13 points on 4-of-6 field goal and 5-of-5 free throw shooting Wednesday night, but it wasn't enough to keep Augustana from falling to Wheaton 78-67 at Carver Center
ROCK ISLAND, Ill. - Augustana battled back from an early 14-2 deficit Wednesday night, but could never quite get all the way over the hump, falling 78-67 to Wheaton at Carver Center. The loss drops the Vikings to 9-9 on the season and 1-6 in CCIW play. The Thunder improve to 12-6 overall and 5-2 in the league.
Elisabeth Potts led the early charge for Wheaton, scoring seven of the first 14 Thunder points as the visitors jumped out to a 12-point lead just over three minutes in. However, Augustana scored the next eight points with four coming from sophomore Chaney Tambling (Dwight HS, Dwight, Ill.) and the Viking deficit didn't reach double digits again until the final minute.
After Wheaton extended its advantage back to nine (31-22) with 5:53 to go in the half, Augustana began whittling away. Molly Etheridge (Normal Community HS, Bloomington, Ill.) started a 13-7 run with a three-pointer and ended it with a jumper that cut the Thunder lead to 38-35 with 44 seconds left in the half. Tambling hit four free throws in the spurt as well. A Breanna Bohlen basket gave Wheaton a 40-35 advantage at intermission.
The Thunder's lead bounced between three and eight for the first 14 minutes of the second half until a steal and basket by Maris Hovee made it 63-54 with 5:49 to play. After the teams traded baskets, Brianna Skeens (Vernon Hills HS, Libertyville, Ill.) dropped in a hook shot with the shot clock winding down and Natalie Runge (St. Dominic HS, O'Fallon, Mo.) added a basket to make it 65-60.
The Thunder's Lindsey Brenneman knocked down a three-pointer with 2:09 to go, but Augustana's Gianna Pecora (Downers Grove South HS, Darien, Ill.) answered with one of her own and Whitney Miller (Clinton HS, Clinton, Iowa) followed by hitting a pair of free throws and the Vikings were within 70-67 with 1:04 left. However, Brooke Olson responded by hitting a three-pointer, the Thunder's ninth of the game, from the left corner to ice the game. With the hosts fouling in the final minute, Wheaton extended the final margin to 11.
Tambling led the Vikings with 13 points, while Runge and Etheridge each added 12. Runge had seven rebounds and Etheridge six as Augustana outrebounded the Thunder 40-28. Wheaton shot .473 (26-55) from the field and the Vikings .448 (26-58), but the visitors connected on nine of 20 from beyond the arc and 17 of 25 from the free throw line compared to three of seven and 12 of 15, respectively, for Augustana.
Coach Bobbi Endress' Vikings will play the fourth game of their current five-game homestand, hosting Millikin Saturday, February 28 at 5:30 p.m.