January 24, 2012
2011-12 Season - Seniors, defense key 70-46 win over Wheaton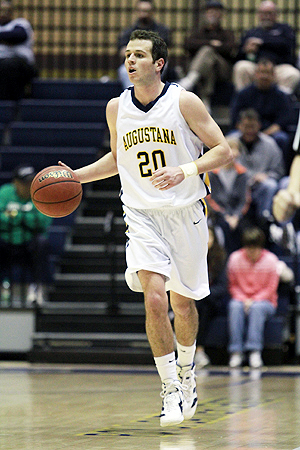 Senior point guard Brian DeSimone had game highs of 21 points and six assists Tuesday night to lead 20th-ranked Augustana to a 70-46 win over 22nd-ranked Wheaton at Carver Center.
ROCK ISLAND, Ill.-Led by Brian DeSimone's (Buffalo Grove HS, Wheeling, Ill.) 21, Augustana seniors accounted for 54 of the team's 70 points Tuesday night as the Vikings knocked off CCIW co-leader Wheaton 70-46 at Carver Center. Augustana held the Thunder, the league's top shooting team, to just a .308 field goal percentage for the game. The 20th-ranked Vikings improve to 14-4 overall and 4-3 in the conference, while Wheaton falls to 14-4 overall and 5-2 in the CCIW.
Troy Rorer (Bettendorf HS, Bettendorf, Iowa) hit a free throw line jumper to give Augustana a 2-0 lead and Wheaton's Jeremy Pflederer came right back with a bucket of his own to tie it at 2-2 a minute and a half in. That would be the last time the Thunder would be even in the game, as Bryant Voiles (Byron HS, Byron, Ill.) drained a jumper at the 18:15 mark to put the hosts up for good at 4-2.
DeSimone's first basket was a three-pointer with 15:29 left in the half which gave the Vikings a 9-4 lead. He finished off a conventional three-point play with 9:24 to go until halftime to push the advantage to double digits for the first time at 22-12. With 4:49 left, the lead ballooned to 31-14 on another DeSimone trey and a pair of Brandon Kunz (Lake Zurich HS, lake Zurich, Ill.) free throws gave Augustana a 40-20 lead at intermission-its biggest of the game to that point. DeSimone finished the first 20 minutes with 16 points on six-of-seven shooting from the field, including three for three from beyond the arc.
Voiles opened the second half with a three-pointer and Rorer added four straight to give the hosts a 47-21 with 18 minutes left. Behind five points from Spencer Schultze, Wheaton put together an 11-3 run to cut the deficit to 18 with 13 minutes left, but the Vikings came right back with a 13-4 run of their own, capped by another DeSimone three, to go up 63-36. A Rorer free throw with 6:44 left gave the hosts their biggest advantage of the night at 67-36.
In addition to his game-high 21 points, DeSimone had six assists (also a game high), four rebounds and two steals. He hit seven of nine field goal attempts including all four from long range. Voiles with 16 and Rorer with 11, joined him in double figures. Each had six rebounds as well. Kevin Schlitter (Maine South HS, Park Ridge, Ill.) finished with eight points, as did Kunz, who also snared a game-high nine rebounds. Senior Chris Anderson (West Carroll HS, Mt. Carroll, Ill.) had six points to round out the Viking scoring and George Dexter (Bettendorf HS, Bettendorf, Iowa) chipped in with six rebounds as Augustana piled up a 45-30 advantage on the boards.
The Vikings held Wheaton to just 16-of-52 field goal shooting for the game, including one of 12 from three-point range. All-American forward Tim McCrary was the only Thunder player to reach double figures. He finished with team highs of 10 points and seven rebounds, but was held to four-of-13 shooting from the floor.
Coach Grey Giovanine's club is in action next on Saturday, January 28 when they host Millikin in the fourth game of this current five-game home stand. Tipoff is scheduled for 7:30 p.m.