January 24, 2012
2012 Season - Jones named "Athlete of the Week" in CCIW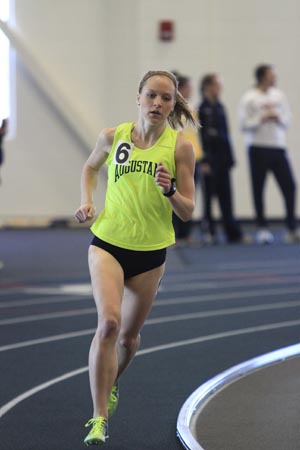 Junior Sarahbeth Jones was named the "Athlete of the Week" in the CCIW after she won the 3000 at the Midwest Invitational on Saturday, January 21. Her time of 10:16.73 was within two seconds of the Augustana school record.
Junior Sarahbeth Jones (Warren Township HS, Wadsworth, Ill.) has been named the "Athlete of the Week" for women's track & field in the College Conference of Illinois & Wisconsin. Jones was honored after her performance at the Midwest Championships in Monmouth, Illinois on Saturday, January 21.
She won the 3000 meter run with a time of 10:16.73, which is just over one second off the existing school record of 10:15.27 set by former Viking All-American Susan Paige back in 1998.
Jones began the 2012 indoor season by winning the mile at the Sol Butler Invitational in Dubuque, Iowa on Saturday, January 14 with a time of 5:15.38. She is coming off a cross country season where she earned all-region honors in the NCAA Division III Midwest Regional and placed fifth in the CCIW meet. She was named the Most Valuable Performer on the Augustana team by a vote of her teammates.
She has been a two time place winner in the 800 at the CCIW championship meet during the first two years of her career at Augustana. This past fall she won "Runner of the Week" honors from the CCIW and was also honored by the league as a recipient of the Jack Swartz Award for her combination of athletic prowess and academic excellence.
The daughter of Lewis and Elizabeth Jones of Wadsworth, Illinois, Sarahbeth is and English and mass communications major.