Trustees approve plans for new Center for Student Life
Preliminary work to begin in March; scheduled to open Aug. 1, 2013
January  23, 2012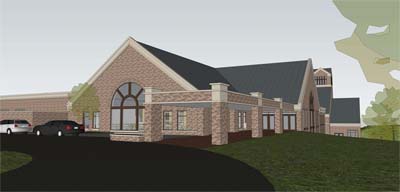 An architect's drawing of the main entrance to the Center for Student Life, looking east.
$35 million in construction in next 18 months
With the construction of a new Center for Student Life, combined with other construction and renovation projects, including the interior of Old Main and campus athletic facilities, Augustana officials estimate campus improvements could add up to as much as $35 million in the next 18 months.
The exterior of Old Main was renovated in 2010, including repair and lighting of the dome. Interior renovations will include:
Technologically enhanced classrooms and additional computer kiosks
Laptop or tablet-enabled collaboration spaces for group work
Updated faculty offices and seminar rooms
A new forum space incorporating the former chapel's stained glass window
In addition, Augustana will partner with Hastings and Chivetta, an architecture firm based in St. Louis, to begin planning a major renovation and new construction project at the college's Ericson Field and the Carver Center — thanks to the leadership of Ken Anderson '71, former Cincinnati Bengals quarterback, and the generosity of the Austin E. Knowlton Foundation. Tentative plans include football stadium seating and locker room improvements, all-weather turf, and the addition of team meeting rooms.
Related documents
— Exploratory task force report
— The Case for a Center for Student Life
— Affirm Our Mission, Assure Our Future and Assess Our Results
Augustana College's Board of Trustees has approved the design and financing of a multimillion-dollar Center for Student Life that will be connected to the Thomas Tredway Library. The college's centerpiece of academic life will be re-energized with the addition of 35,000 square feet and two new functions — dining services and student activities — and the renovation of 39,000 square feet.
Preliminary work on the $20 million construction and renovation project will begin in March; the project is expected to be completed by Aug. 1, 2013. The Center for Student Life will be certified as LEED Silver, based on a green building rating system developed by the U.S. Green Building Council. It will be the college's first LEED Silver building.
A year-long study by a campus task force determined that fusing the Center for Student Life with the existing library was the best way to address the changing academic and evolving social needs of today's students. Building on its role as the hub of academic activity and a popular hangout for students, the library was recognized as the ideal place to locate critical student services.
"Augustana students are combining social activities with service projects, blending traditional learning styles with participatory and experiential activities, and turning knowledge from the classroom into action in the community," said Steven Bahls, president of the college. "This kind of student life requires access to multiple technologies, various types of meeting spaces and resources — not to mention food — at least 16 hours a day."
Combining dining services, student activities and the library into one facility will position Augustana among selective liberal arts colleges for rethinking the traditional library and providing an enhanced learning environment for students.
"The variety of spaces throughout the building will allow people to continue conversations from class, attend a meeting, dine together or read alone," said Kent Barnds, vice president of enrollment, communication and planning. "Students can move seamlessly between academic and social activities in a single location, mingling with a complete cross section of the campus community."
Building the Center for Student Life is directly tied to Augustana's strategic plan, "Affirm our Mission, Assure our Future and Assess our Results," by upholding the college's commitment to a student-centered approach and culture. A dynamic building, anchoring the academic quad and housing multiple key student functions, will enhance the campus, benefit the entire student body and improve student recruitment and retention.
In addition, the center's strategic location between upper-campus residential life and lower-campus academic buildings is ideal for those wishing to make one stop to access the following offices:
Reading and Writing Center
Center for Teaching and Learning
Office of Diversity Services
Office of Student Activities and Leadership, which includes Greek Council, the Multicultural Programming Board and CUBOM (College Union Board of Managers)
Carla Tracy, director of the Thomas Tredway Library, agreed the opportunities the new center offers could transform student life.
"Contrary to what one might think, it will provide more varied student study spaces, since the multi-purpose rooms and other new areas will be available many hours of every day," Tracy said. "The library will be able to design better quiet-study areas, and I believe that the louder, social kinds of learning will naturally relocate away from the quiet areas."
Combining the library, dining services and student activities into one building is a step toward enhancing the college's National Survey of Student Engagement profile. In support of students' academic endeavors, the initiative will provide technology capabilities throughout the building; private spaces for reference librarians to mentor, tutor and guide students doing research; and more group study spaces. The central dining area and expanded "in between spaces" will allow greater opportunities for students, faculty and staff to meet and develop relationships, increasing the feeling of community on campus.
Augustana's partners in the design and construction of Center for Student Life are familiar names on campus: Shepley Bulfinch, architects of the original design of the Tredway Library; BLDD Architects, designers of Emmy Carlson Evald Hall; and Russell Construction, the team that built Swanson Commons. Additional partners include Rippe & Associates as food service consultants and BRB Architects, which assisted with space planning.
Additional features
Contemporary dining with multiple "Marché (market) dining" stations, where diners choose their ingredients and watch a chef prepare their food; dining seating for 700
Private and group study rooms, adaptable multi-purpose rooms and digital game room
Expansion of Brew by the Slough coffee shop and deli, with expansive outdoor patio
New or expanded spaces for the Reading/Writing Center and the library's Special Collections
Sam Schlouch
Senior Communication Director
(309) 794-7833
samschlouch@augustana.edu