January 2012
Our Viking Pups
Pre-occupational therapy major Mary Kiolbasa '15 has experience training service dogs, so it's natural she would want to continue animal-assisted therapy once she becomes a professional occupational therapist. To continue her own training while in college, she contacted Pups Assisting With the Disabled (P.A.W.D.), to see if they would consider a partnership.
"Luckily, they responded with great interest," Mary said. She began attending training and working toward group status, and along the way asked her friend Alexandria Roehrenbeck '15 to be her vice president. The two received permission to bring to campus our first Viking Pup: Knox, a 2-year-old yellow Labrador Retriever.
Mary describes him as "such a sweet boy, so enthusiastic, and so much fun to be around. His favorite command is to retrieve things, and he is even able to pick up your ID and give it back to you."
Knox will assist his future owner with two primary types of tasks: mobility and retrieval. He will help his owner get around and even brace her when needed, serving as a support while she stands or ascends stairs. He also will retrieve anything she might drop. Since his future owner is a young student, Knox needs to adjust to going to school. You may see him most often in class on campus, or occasionally playing after a hard day of work.
Mary says he is great at focusing on his handler despite an entire classroom of distractions. She will help to assess his readiness, but it's difficult to know exactly when Knox will be placed with his new and permanent owner.
Once Knox moves into his new job and home, Augustana will welcome two new Viking Pups. P.A.W.D. has two new puppies ready for the program, and Mary and Alexandria had the honor of naming them.
"They are Augie and Thor, both Golden Retrievers and only a couple months old," Mary said. "They are adorable fuzzballs that just love to cuddle and play, like any true puppy." Someday these two fuzzballs will be hardworking professionals, like Knox.
"Hopefully, Knox will make such a great impression that he will help us get group status," Mary said. If they achieve that status, she has many ideas about how to expand Viking Pups' outreach to help as many people as possible.
The Goodness of Bad Habits
Write a one-act play on the theme of bad habits. This was the invitation/challenge offered to local playwrights by New Ground Theatre, a regional professional theatre company. Plays submitted were given a staged reading last summer; audience votes determined which four would be fully produced by New Ground in its 2012 season.
One of the four plays was written by Ann Boaden of the English department. Her play "Bad Habits" is the story of two characters from widely disparate worlds whose encounter reshapes both in unexpected ways. Augustana denizens may notice some campus allusions in the setting: a turn-of-the-century house whose dining room bears a recognizable resemblance to that of House-on-the-Hill.
"Bad Habits" runs through February 5 at the Village Theatre, 2113 East 11th St., Davenport. Performances begin at 7:30 p.m. Thursday through Saturday and at 2:00 p.m. Sunday. Ticket information is available at (563) 326-7529.
Field Notes
Field Notes illustrates different kinds of experiential learning that take us places off campus. In this issue, geology major Maren Mathisen '12 gives readers a chronology of her Augustana geology field trips. Maren also has been a splendid photographer and student manager of the Augustana Photo Bureau during the past four years. Attend Augustana Sights and Sounds on January 27 to see Augustana Photo Bureau photographers' work, including Maren's photos of volcanic processes in Hawai'i and views of Wyoming.
South Dakota, Wyoming & Nebraska | Physical Geology in the Rocky Mountains | August 2008 I began my college experience with the Geology 105 Trip: Physical geology in the Rocky Mountains. I took my first Augustana quiz on a picnic table in Badlands National Park, and learned about geologic concepts by seeing, touching, tasting (!) and hiking along millions of years of igneous, metamorphic and sedimentary rocks. This trip motivated me to become a geology major.
Florida Keys and Everglades | Carbonate Sedimentology | January 2009 We learned about the variety of carbonate sedimentary environments and local fauna and flora by snorkeling down to modern reefs offshore, comparing them to ancient reefs onshore, and visiting the Everglades, a region of subtropical wetlands.
Nebraska | Oligocene Fossil Mammals of the White River Badlands | May–June 2009 Thanks to the generosity of alumnus Bordy Munson, Augustana students have been fossil hunting at Munson's Shalimar Ranch for 30 years. We learned about Oligocene (about 30 million years ago) fossil mammals, spent the days looking for fossils in the field, and identified the fossils we found based on their dentition and other distinguishing features. I found lots of teeth, a brain cast of a sheep-like hoofed mammal, and a pocket turtle that fit in the palm of my hand!
Tucson, Arizona | Gem & Mineral Show | January 2010 My mineralogy class spent several days looking at thousands of minerals from around the world and identifying their crystal structures and other properties.
Iowa & Colorado | Front Range Geology | May–June 2010 On our way to Colorado, we stopped in Iowa to meet with alumni who taught us about the prairies and local geology, and prepared an elk burger feast for us. Alumni from the Denver area introduced us to the Colorado Front Range. We learned about some awesome geology, but a highlight of the trip was getting to know some of the alumni who have supported our geology department. Mary Thorson Lucken and John Lucken, Chuck and MaryJo Kluth, Susan and Bob Steele Weir, John Warme and Dave Schroeder shared not only their expertise, but also their homes with us.
Hawai'i | Volcanism | February–March 2011 Not only did we learn about volcanoes—we actually got to poke glowing hot molten lava with a stick and make our own igneous rocks! The next day was the extreme opposite—we touched snow at the top of Mauna Kea. We also visited white, black and even green sand beaches; walked through a lava tube; and hiked through a crater.
Wyoming | Field Camp | May–July 2011 During a six-week field camp with the University of Missouri, I learned about the regional Wyoming geology and acquired many valuable field skills, as well as new friends from around the country.
Wyoming | Keck Geology Consortium Research Experience for Undergraduates (REU) | July–August 2011 Utilizing the field skills I learned during field camp, I did field research with a group of eight other students and professors from around the country, concentrating on geologic events that occurred about 50 million years ago. My senior inquiry research project developed from this fieldwork.
Tucson, Arizona | Zircon Geochronology | January 2012 This week I will head to Tucson for a few days to date zircons (a mineral present in sandstones that can be used to determine their age and the source of the sediments) in the University of Arizona Laserchron Lab. My research group from the REU will take turns doing 12-hour shifts in the lab, and we will have immediate results to help us understand how northwestern Wyoming was formed and transformed over the millennia.
Arizona | Grand Canyon Geology | February 2012 In just a few weeks I will finish my senior year at Augustana with a bang—a week-long backpacking trip through the Grand Canyon with the geology department during spring break!
Ohio | Geological Society of America Conference | April 2012 In April, the geology department and I will attend the Geological Society of America's regional meeting in Dayton, Ohio, where I will present my senior inquiry research—a culminating Augustana geology field trip.
The field trips I have taken have taught me field skills, enhanced what I have learned through my coursework, prepared me for graduate school, and led me to appreciate geology even more. I am extremely grateful to my dad, who received a bachelor's in geology at Augustana in 1974; our geology department: Dr. and Mrs. Wolf, Dr. Strasser, Dr. Hammer and Gail Parsons; our alumni; and the generous donations of Mr. and Mrs. Lucken, which have helped our department provide so many amazing learning experiences.
New Face on Campus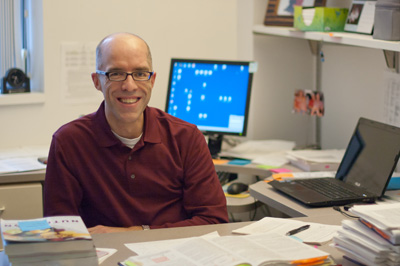 Dr. Scott Gehler, Assistant Professor of Biology
How do faculty members separate their work from their family? For Dr. Scott Gehler, a new assistant professor in the biology department, the answer is easy. He doesn't.
A quick conversation reveals that his love of biology rubs off on others, especially sons Noah, 5, and Max, 3. He laughs as he explains how his wife Trisha, a physical therapist, is amused when family camping and fishing trips turn into biology lessons. Scott offers further proof that his love of biology is shared with the young Gehler boys—their crayon and construction paper drawings of brains, magnifying glasses and cancer cells decorate his office.
Augustana students, of course, benefit from his love of biology; his specializations in cell biology, cancer biology and neuroscience; and his varied experiences. A 1998 graduate of Cornell College in Mount Vernon, Iowa, he majored in biology and psychology, and then attended the University of Minnesota for his Ph.D. in neuroscience.
Scott went on to do post-doctoral research at the University of Wisconsin-Madison, studying how breast cancer cells move and metastasize to other parts of the body. After that, he worked for a small biotech company, directing the research and development group for cell-based assays. Prior to coming to Augustana in August, Scott spent a year teaching at Simpson College in Indianola, Iowa.
Since coming to Augustana, he's been "constantly surprised by the way students here really take responsibility for themselves and their education.
"They're proactive," he continues. "They have a plan or a blueprint. Augustana students are very focused."
When asked what would surprise people about him, Scott confesses he loves the band Metallica—one personal passion he hasn't yet shared with his sons.
From the Cabinet
Evelyn Campbell, Dean and Vice President of Student Services
In response to statistical findings (National Survey of Student Engagement and our own senior survey) that Augustana students engage comparatively little in serious conversations with students different than themselves, we introduced the Discover Difference campaign to campus at the beginning of this academic year, and it continues to gain momentum. Most recently, you may have seen the logo showcased on programs and buttons for the community tribute and celebration of Martin Luther King, Jr.
Discover Difference is used to identify experiences that will help students gain a deeper and wider perspective on diversity. Faculty members received a list of the programs earlier this term. We have been thrilled so far with the number of students who have taken advantage of the opportunities provided under the Discover Difference umbrella.
From cultural celebrations like the Our Lady of Guadalupe celebration, to performances by groups like Ballet Folklorico, to educational presentations represented by Jermaine Davis' discussion of how to communicate with people from diverse backgrounds—students have had a wealth of opportunities to grow and learn. Follow-up sessions in the residence halls also have provided unique opportunities for students to deepen their learning through more intimate discussions of the topics. We've heard that these discussions have resulted in tears, apologies, laughter and, most importantly, new friendships.
Strikingly, our staff also has been changed as we have embarked on this journey together. By purposely discovering difference, we have been changed by our peers and the events we have participated in this year. As our student services team seeks to more effectively support high-impact learning at Augustana, I am happy to report Discover Difference as one of our best efforts to aid in the transformation of student lives.
Seen & Heard
"I'm doing this for my grandparents, and to spread hope."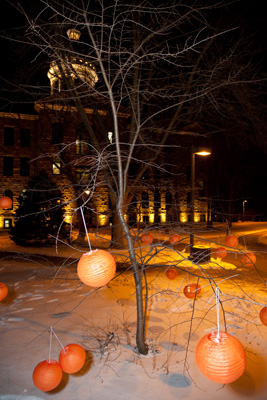 At "Sky Full of Lighters" on January 17, members of the campus community illuminated lanterns to signify hope for loved ones living with cancer.
Acknowledge is published by the Office of Communication and Marketing at Augustana College in Rock Island, Illinois. Contact Beth Roberts, editor. Photos in this issue were contributed by Drew Barnes '14, Daisy Hoang '14 and Maren Mathisen '12 of the Augustana Photo Bureau.